Boudin Blanc is a yummy sausage made of pork, chicken, or veal. The minced meat is and combined with bread and cream, then seasoned with spices such as marjoram and sage. Boudin Blanc is traditionally eaten during Christmas and paired with mashed potato and apple sauce. Boudin Blanc is commonly sold pre-cooked and just need heating. You can reheat them in a slow frying pan with a small amount of butter, or bake them in a moderate oven with butter, quartered apples and a splash of Calvados. Trust me eating boudin blanc is a delight! Here's how you eat boudin blanc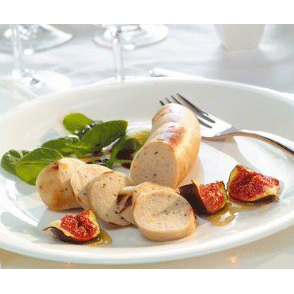 Things required for eating boudin blanc
boudin blanc
Napkins
Knife
Fork
Silverware
Condiments
Beer
How to Eat Boudin Blanc
Step 1: Pick up fresh Boudin Blanc from the grocery. Bite into the sausage link. Blanc Boudin is usually eaten without utensils. Gently pull the meat out of the sausage casing with your teeth and fingers. You will want to have several napkins ready to catch the drips.
Step 2:  Slice the Blanc Boudin open with a knife. Then pull the meat out with a fork. If you are a fastidious person, you may use your silverware to eat blanc boudin.
Step 3: Enjoy with condiments. Some locals enjoy blanc boudin with a little something extra: a bit of creole mustard, cane syrup, a French roll or a few crackers.
Step 4:  Wash the blanc boudin down with an ice cold beer. The refreshing taste of the beer sets off the boudin's spicy heat.
Want to try making Boudin Blanc at home then do refer to these recipes on ifood.tv. and savor your very own homemade Boudin Blanc.