How To Eat Pate Lorraine?
Pate Lorraine!!
The last time I went to a party at a friend's house I was served these delicious treats. Once I had a bite of it I just had to know everything about this yummy pastry, especially
how to eat Pâté Lorraine!!
Well, here is what I found out!!!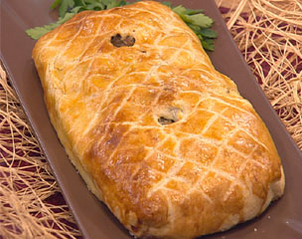 The Pate Lorraine is a delicious stuffed puff pastry that is filled with meat flavored with white wine.  An authentic Pate Lorraine will have chopped Pork, Veal, Sausages and Shallots spiced with thyme, bay leaf, parsley, salt, and pepper and flavored with wine.
 
You can eat the Pate Lorraine as an appetizer. In this case it can be served hot, warm or cold for the first course of the dinner.
 
They also make for yummy and filling snacks or tea time dish. Obviously, it goes without saying that they fit into a birthday spread too!
 
In case you are serving them as snacks or as part of a main meal you can serve a green salad as well as some chilled local Lorraine wine with it! Pinnot Gris is the perfect choice of wine to go with the Pate Lorraine. This can very well be coupled with an assortment of good quality French cheese! Trust me you will have a winner combination there!
 
You can eat different kinds of pate depending on the filling. The fillings can be anything from a well-seasoned French meat or fish paste filling to a fruit or vegetable filling. Also, the filling you consume can be smooth or coarsely textured. But beyond all this you should remember that only a pork and veal filling can make the original Pate Lorraine.
 
Image Credits
http://www.liouba-lorrukraine.fr/