How To Eat Ditalini – The soup-y pasta

18 Aug 2010
Being a pasta patron, Ditalini simply extends your 'to-do' pasta recipe list. What exactly is Ditalini and how to eat Ditalini, such that you attain the fulfillment of having savored every kind of pasta, Italian cuisine has to offer?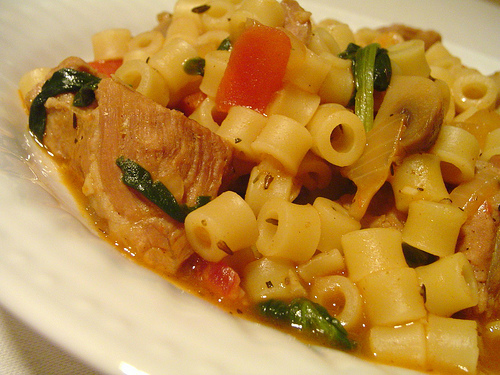 Ditalini in Latin means 'little thimbles', associated with the shape and size of the Ditalini pasta.  Native to  Campania region of Italy, Ditalini is the crowning glory of many classic Italian soups such as pasta E Fagioli, minestrone, pasta and bean soup, and also a few novel pasta dishes.
Let us see through the tubular Ditalini, to lend a wider perspective on how to eat Ditalini
•    Ditalini prepared with pesto, broccoli rabe, beans with vegetable broth and crushed pepper makes a scrumptious pasta meal. You could complement this dish with crusty bread and radicchio dressed up in rich Italian cream.
•    Pasta E Fagioli finds the right use for Ditalini. This is a classic soup favored by many, as it is in itself a filling meal, which just needs a simple green salad to pair with.
•    Minestrone with Green Beans and Fennel is another variety of Italian soup, that once again projects Ditalini as the best soup pasta ever (for its ability to soak the broth and look like a fulsome meal). The soup can be made the vegetarian way as well, with a proper substitute for the chicken broth traditionally used. Use vegetable broth to bathe your Ditalini.
•    Ditalini can also be relished in Sausage and Pepper stew, which celebrates the specialty of Italian sausages.
•    Gaeta Olives, tomatoes, garlic, black pepper, lemon oil and Ditalini, garnished with fresh thinly-sliced chivies… You can sew through a recipe for this pasta  with these ingredients.
•    Another version of the minestrone soup, and yet again a novel way of how to eat Ditalini is making it an experience with roasted vegetables. Your minestrone soup recipe with its core Ditalini ingredient, and a slight twist with roasted vegetables, makes up a delectable Ditalini minestrone soup.
You could also look up our references for Italian cooking, or the web as a world wide resource of recipes, can further substantiate our tips on how to eat Ditalini.
Photo Courtesy : http://a1.vox.com
How To Eat Ditalini – The Soup-y Pasta