How to Eat Choux A La Crème?
Recently I had some yummy Choux A la Crème! I have to say that discovering how to eat Choux a la Crème was a pleasure!! The cream puffs are surely a divine invention! How else could, just the taste and texture of this yummy dessert take you to heaven and back!! Here are some interesting ways to eat and enjoy your cream puffs!!!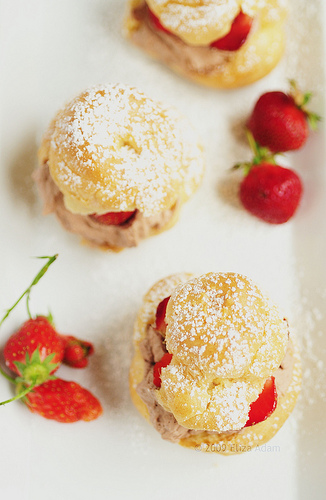 Cream puffs are usually eaten as a dessert but they can also be served at tea. They are perfect for birthday parties and there is really no time restriction on when you can consume these delightful treat!!!
 
The Choux A La Crème is made of Choux pastry and is a small crisp hollow round pastry with filling. I usually like eating my Cream Puffs with sweet fillings like sweet cream or custard. They are almost always coated with a thick layer of powdered sugar which I loved to lick off when I was a child!!!
 
Among the choux a la crème with sweet fillings you will come across ones with sweetened plain or flavored Whipped Cream, Cocoa Whipped Cream, Whipped Cream and Raspberry Jam, Cream with cut up raspberry or strawberry, Chocolate Kahlua Mousse, Vanilla Custard or Pudding.
 
You can also use savory fillings in place of sweet fillings and transform the cream puffs into an appetizer or even a filling tea time snack. You can eat Choux Puff pastry with Salmon mousse, Crab mousse   or Salads like Chicken Salad, Egg, Ham or Tuna Salad filling. On savory Choux a la Crème you should sprinkle some paprika before serving to enhance the flavor.
 
You can get yourselves cream puffs (that use sweet fillings) that are covered with Chocolate ganache or Cocoa. I love to eat cream puffs with Hershey's chocolate syrup drizzled on top!!! These are yumm!!
 
With Sweet Choux A La Crème you can have fruits. Berries especially strawberries and raspberries are perfect accompaniments for Cream Puffs! Blackberries and peaches also go very well with this delicious dessert.If you have got yourself some canned fruits you can serve them with cream puffs with or without their syrup.
 
TRIVIA about Choux A La Creme
 
Choux means cabbage in French and most probably this is why the Choux pastry shells got this name as they do look like small cabbages.  
 
Image Credit
www.flickr.com
How To Eat Choux A La Crème?