How To Eat Poulet Frites
16 Aug 2010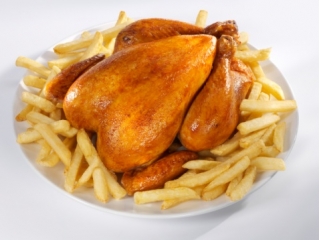 Poulet Frites is your classic French bistro meal; anyone who has been to Paris must surely have tasted this sumptuous yet affordable meal. New to french cuisine and wondering what Poulet Frites is or how to eat Poulet Frites then read on and find out more.
Poulet Frites literally means, "Chicken fries" and is the French equivalent of roast chicken with potato fries/chips. These are typically served with divinely roasted whole chicken laid over a bed of crispy potato fries and a side dish of boiled or stewed vegetables. 
__________
Poulet Frites is a typical wayside bistro meal, rarely cooked at home, and best enjoyed on the exquisitely paved streets of Paris. However, homemade Poulet Frites are quite popular in certain parts of France. Homemade Poulet Frites is made by roasting chicken that has been marinated in a flavorful mixture of peppers, garlic, and an assortment of herbs. The fries are cut thin strips and fried in peanut oil. 
Like all bistro meals, there are no fixed rules for eating Poulet Frites; it is most commonly enjoyed with a glass of white sparkling wine, but you are free to order a glass of beer if you wish. The vegetables most commonly served with Poulet Frites are green peas and long beans, though it is not unusual to find some small cafes serving accompaniments like corn on cob, creamed spinach, or cheese salad along with it.  I found this particular restaurant in Paris that serves Poulet Frites with cream of mushroom soupy-sauce (I call it a soupy-sauce because the texture and consistency didn't really qualify as either), must say it was quite untraditional but delicious nevertheless; the creaminess of the sauce went pretty well with the texture of the chicken and the crispiness of the chips.
So all in all there are no set standards on how you are going to eat Poulet Frites, if you are able to relish the dish then that is it, you have got the technique right. So, the next time you visit France do not miss the opportunity to savor this delectable meal, for as they say in France, eating a meal of Poulet Frites on a Sunday afternoon is customary for building happy family ties (heard it from a street-side artist in Paris). Bon appetite! 
Image credits: flicker.com
How To Eat Poulet Frites