How to Eat Cassoulet?
If you were looking for a healthy and heavy meal that can satiate your family in a matter of minutes then Cassoulet is the perfect dish. Once you learn how to eat Cassoulet I am sure you are gonna dish out a filling cassoulet quiet often at home.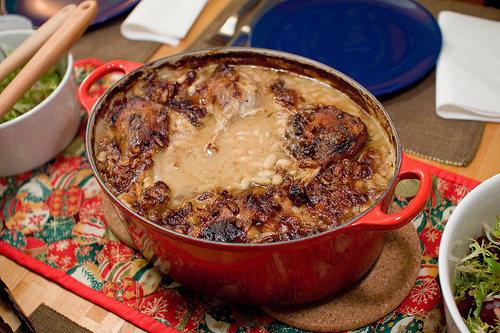 The Cassoulet is a slow-cooked French bean stew or casserole with meat that is very rich and filling. The dish is named cassoulet as an authentic cassoulet is cooked in a cassole which is a deep, round, earthenware pot with slanting sides.
 
Usually the preferred meat that one finds in the cassoulet is the pork or duck. But you can also eat Cassoulet stew that has pork sausages, goose, pork skin, partridge and sometimes mutton stewed with white haricot beans.
 
A Cassoulet is a complete meal in itself and is usually always eaten alone. You can serve a sharp salad as an appetizer or serve it after serving the Cassoulet if there is no dessert included. You can also serve some butter and bread with the cassoulet so that everyone can mop up the delicious stew.  When choosing a dessert, try and stick to something light, like a fruit dessert as the stew itself would have been very heavy on the stomach.
 
There are a variety of types of cassoulet that you can get your hands on and they vary depending upon the ingredients added. Two tasty cassoulet types you can try order for and eat at restaurants are the Toulouse and Carcassonne. They are made with white beans and duck or goose confit, meat and sausages. In America the cassoulet has evolved and you might even get to eat a unique Salmon Cassoulet! When you eat cassoulet at restaurants you will usually get to pick off and enjoy some fried bread cubes and cracklings that are added as topping to the cassoulet.
 
After getting to know your cassoulet this well I don't think I need to tell you twice to just go ahead and enjoy it, do I?? So..what are you waiting for..go and make your cassoulet. Here are a few cassoulet recipes to help you!!!:-)!
 
Image Credit

www.flickr.com 
How To Eat Cassoulet?