How To Eat Eliche?

16 Aug 2010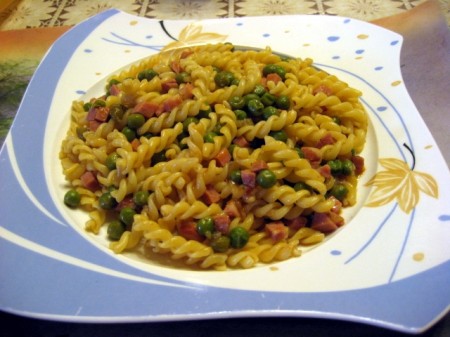 All roads do not lead to Rome, but the road paved here to teach you how to eat eliche…will take you to Rome and also to the gastronomic heights of Italy's culinary delight!
Here is all reason to go 'Mamma Mia' about eliche, because these pasta spirals, twirl on your taste buds like a ballerina with all delicacy  and daintiness, taking to the dancing floor – with the result that all your senses simply bow to the divine experience of eating eliche.

Let us trace the antecedents of this pasta variety before we move on to the ways of eating eliche. Eliche is closely related to the fusili pasta (in shape and size) and can be used in almost all recipes which recommend fusili pasta.

But what makes eliche exclusive? To find out the twist in the tale of these spirals, the different ways to eat eliche will prove its distinctness.

So, to enjoy your eliche eating experience to the maximum, and scoop out the health-elements from this nutritive Italian dish, these tips on how to eat eliche will help you savor the dish in the right and rightful way.

•    If you want to cook eliche the vegetarian way, a recipe for Eliche Arrabiata serves good the purpose. Eliche Arrabiata is eliche cooked in Arrabiata sauce, which is tomato-based, with additions of onion, garlic and fresh herbs.

•    Another way of eating Eliche is with Zuchhini. Eliche with Zucchini, is another dish for the vegetarians, who would want to twine their pasta around their forks in the strictest vegetarian sense. A mélange of ingredients (tomatoes, zucchini,red onions, ciabatta, garlic, olives, Parmesan and bread) tossed in extra virgin olive oil and sprinkled with fresh herbs, the dish is simply tantalizing. This recipe resourcefully tips you to make use of leftover bread-loaves.

•    And well if you are fishing out ways to make good your favorite fish into the Italian dish,  you could use anchovy fillets with black olives, fried in anchovy oil, olive oil and well garnished with fresh rosemary herbs.

•    How to eat eliche, unwinds to a more easier and quicker cooking tip. As a close cousin to the fusili pasta, eliche gels well with all the dishes which form a good accompaniment to the fusili pasta, but for pasta salads and Feta cheese cubes. These two outsize your eliche pasta and therefore, disrupt the uniformity in texture, taste and appearance as well.

You could also check our Italian recipes section to scoop out more on these tips on how to eat eliche, and get ready for the transformation from a contesting gladiator for eliche eating tips to that of a connoisseur, simply waiting to twirl with the spirals!
Photo Courtesy :  ideericette.it 

 
How To Eat Eliche?