How To Eat Mapo Doufu

15 Aug 2010
I always look for combination of different items (which make one food) and in one such attempt to find a great combination of tofu with different sauces - I learnt how to eat mapo doufu.  If you are fond of Chinese dishes, you must have heard about this delicacy – eating mapo doufu will give you the chance to experience true Chinese flavor and aroma. This is a very popular dish which has become famous from Sichuan province of China.
Mapo doufu is a great combination food – it is made of tofu which is set in a chilli and bean based sauce. Those who have eaten this dish, often talk about its oily and thin red suspension which makes the dish look very spicy and tempting.

Since I am a lover of Chinese cuisine, I normally check out Chinese dishes in every restaurant I visit  to have food. It gives me great pleasure to taste, compare as well as analyze the taste and flavor of different delicacies offered in different places. Thus, when I tasted Mapo doufu I realized that this food can be eaten in many different ways.
Here are some of those ways and variations which you might like to experiment when you are eating mapo doufu.
•    Toppings: This is one of the primary areas where you can bring in variations while you are eating. You can keep changing your toppings when you are having this dish. I have tried out beef, chopped pork, and minced meat – each of which imparts an amazing mouth-watering taste to the dish.

•    Mapo doufu is a Sichuan dish and if you visit any restaurant which does not specialize in Sichuan delicacies, you will get an adulterated taste of the dish. In most cases the spices are toned down so that more people can eat it.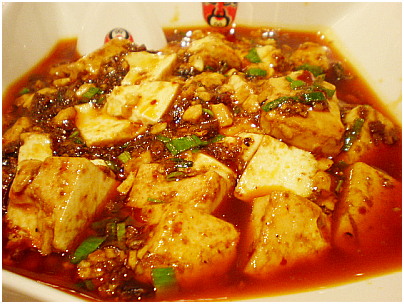 ..specially those who dislike spicy food.

•    Variations can be brought about in spices which are used. If you are really fond of very hot mapo doufu, you can  eat the very hot and spicy version of this dish.

•    If you taste eat mapo doufu in restaurants of other places such as Japan and Korea you will find that the dish is a local adaptation and includes many spices of the local region. You will get the local aroma and flavor in mapo doufu. This is what makes this dish special.
•    If you eat, mapo doufu in American restaurants you will notice that meat is replaced with vegetables so that vegetarians too get to enjoy the taste of tofu with spices. Enjoy it in your favorite restaurant with your friends and family.
If you wish to eat mapo doufu in its original way, you can have it with noodles and soup. This can be eaten during lunch or for dinner. People who do not wish to have it with noodles, can eat it with steamed rice or bread as per choice.
Image courtesy: international ; kebabiman.tumblr.
How To Eat Mapo Doufu