How to Eat Éclairs?
I just made some delicious éclairs for my niece's birthday party!! They love these éclairs and the children and guests often don't think twice about how to eat éclairs or where they are from when they see these irresistible French pastries.  But here is some trivia about eating éclairs which I am guessing you will appreciate: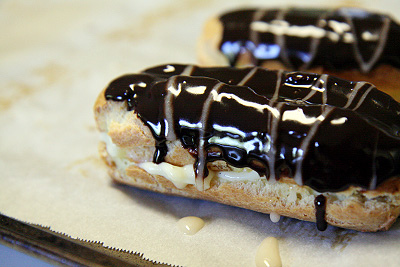 It is believed that the Éclair originated in France in the nineteenth century, but there is some argument over the place of the origin of the term Éclair being England. However, it is agreed that the éclairs were first made by Antonin Carême, a famous French chef. 
 
Éclair is a long thin pastry that is made from choux pastry dough with a yummy filling and  coated with fondant or melted chocolate. You can eat eclairs filled with Coffee or chocolate flavored pastry cream. You can also eat eclairs with custard, whipping cream, fruit flavored fillings, chestnut puree or even pistachio and rum flavored custard!!! I prefer fruit fillings. I love to eat Eclairs with Banana Cream, Peaches 'N' Cream or Meyer Lemon Filling. The last lemon flavored filling is simply spectacular!! When having Banana Cream filled Eclairs, you should not forget to use some bourbon caramel sauce also in the filling!! Trust me you will love it!!!  There are many éclair recipes that you can get online. You can also fill the eclairs with savory and eat it as an appetizer!
 
When you want to eat some eclairs make sure you ask for choux paste traditional éclairs at your closest European styled bakery and not for the éclair cake or long johns that is usually considered to be authentic eclairs. You should also know that the best way to enjoy eclairs is take it in your hand and take bites off the side with the filling, the pastry and fondant and all...yummy!!!!
 
When you are making eclairs at home , make sure you eat them immediately after cooling the fondant. if you are planning to eat it later then be sure to refrigerate it otherwise the filling can go bad!!
 
TRIVIA
 
The choux pastry dough used to make the éclair can also be used to make other pastry like the profiteroles or cream puffs.
 
In French the word Éclair means lightning. Though the connection is obscure, one interpretation is that the light gleaming of the fondant topping is probably the reason for this name. I believe it is more to do with the lightning effect these yummy pastries have on your gustatory senses!!
  
Image Credit
www.flickr.com
How To Eat Éclairs?