How To Eat Foie Gras

13 Aug 2010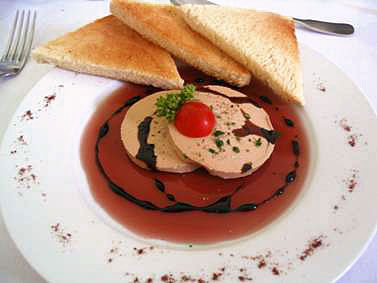 Before you learn how to eat foie gras, you should first know the background of this French food. Foie Gras is  made of duck liver. The duck liver is flattened through a process which is known as 'gavage corn'. It can be eaten in many different forms and ways.  Here are some interesting ways of eating foie gras.
• Most French restaurants serve foie gras – so if you wish to eat this French delicacy you just need to visit your nearest restaurant which serves authentic French food.
• You can eat foie gras as a whole if you want to – to do so, visit any French restaurant with your friends and family and ask for their whole foie gras.
• You can eat whole foie gras in its cooked form or semi cooked form. It can also be eaten raw.
• Fully cooked foie gras in its molded block form is enjoyed during family parties and get-togethers.
• You can also eat foie gras as a mousse or parfait. This is considered to be a good option for dinner too.


• If you wish you can enjoy foie gras along with other food items like steak or beef with a hot sauce.
• You can buy frozen foie gras also from your nearest supermarket, which you can bring home, cook and eat as per your convenience.
• Most families enjoy foie gras in the evening – while relaxing and watching television.
Though, there is no special time for eating foie gras – most people love to eat it on special occasions like Christmas.
Image courtesy: 2.bp.blogspot
How To Eat Foie Gras