How to Eat Hyderabadi Biryani?
You have been to India and still haven't had the tempting aromatic Hyderabadi Biryani!! Trust me, it is worth the money and the effort to go all the way back to Hyderabad in Andhra Pradesh and get your hands on this yummy mutton and rice dish, as long as you know how to eat Hyderabadi Biryani. This Indian flavored rice dish is definitely what you need to cheer your day up, so here is all you need to know about Hyderabadi Biryani: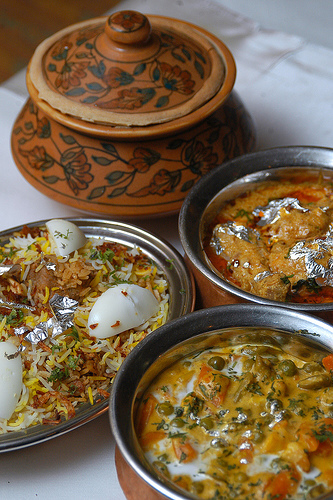 What is Hyderabadi Biriyani?
 
It is the blending of the Mughalai cuisine brought in by the Mughals who invaded India and the Telangana cuisine that led to this wonderful dish. Basmati rice, meat, yoghurt, onions, spices, lemon, saffron, coriander and fried onions are the rest of the ingredients used to make Hyderabadi Biryani where the latter two ingredients are usually used to garnish the dish. The Hyderabadi Biryani is well known for its gravy and the wonderful balance of flavors in it owing to the use of spices like saffron and cardamom and flavoring ingredients like mace, ittar and kewra.
 
How to eat Hyderabadi Biriyani?
 
The Hyderabadi Biriyani is the main course of a spread and they are also served during Muslim festivals like Eid and Ramzan! You can eat the hyderabadi biriyani with the following accompaniments :-
 
Mirchi ka Salan - green Chili Curry
Dahi Chutney – A relish made with curd and onions.
Baghare Baingan – Roasted Egg plant
Or /and a Salad made with onion, carrot, cucumber,&lemon wedges!
A boiled egg and some fried pappads go very well with with Hyderabadi biryani.
 

You can eat a typical Hyderabadi Biryani that has basmati rice and goat meat and is caled Hyderabadi Mutton  or Gosht Biryani. Hyderabadi Murgh Biryani on the other hand uses chicken in the place of mutton and is perfect for chicken lovers like me.
 
If you are a vegetarian you can enjoy Vegetarian Hyderabadi Biryani. My mother in law used to make this yummy dish using vegetables like carrots, peas, cauliflower and potato. It is also called Hyderabadi Subzi Biryani. 
 

The Hyderabadi Biryani can be divided into two types depending on the manner in which it is cooked: Kacchi Biryani and Pakki biryani.
 
You should know that all over India you can find close to 49 different kinds of Hyderabadi Biryani. The basmati rice can be eaten with Fish, quail, shrimp, deer or even hare!! 
 
Here are a few good Hyderabadi Biryani recipes that you can cook up at home!
 
Image Credits
www.flickr.com
How To Eat Hyderabadi Biryani?