How To Eat Puran Poli
12 Aug 2010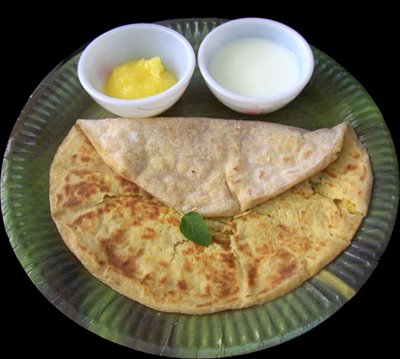 The epicurean that I am, my biggest grouse of staying away from my home land will be - not being able to eat Puran Poli. My nostalgia always tends to deepen with the advent of the festival season in India, the time when almost all households prepare dozens of Puran polis as offerings to God.
For those who are wondering what Puran poli is, allow me to explain; Puran poli, also known as Holige, Obbatu, and Bhakshalu is a type of sweet bread traditionally prepared in the Deccan states of Indian including Gujarat, Maharashtra, Karnataka, and Andhra Pradesh. To make Puran polis balls of soft dough made from plain flour, milk, and ghee (clarified butter) are filled with a sweet mixture usually made of  boiled and mashed chana (horse gram), jagerry (sweetener made from sugar cane extract), and spices; other ingredients like grated coconut, poppy seeds, and raisins may also be added. The stuffed balls are then rolled into thin roundels and roasted on a hot girdle. Though this sounds quite simple, making prefect Puran poli requires great skill and experience.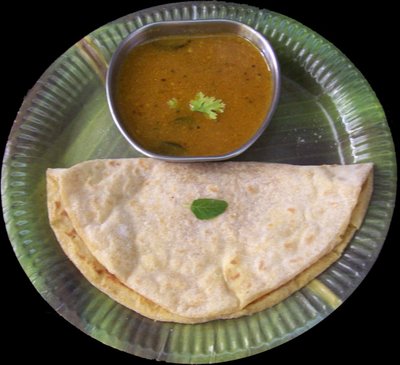 Traditions associated with Puran Poli: Puran Poli is considered as a rich food and traditionally made only during special festivals like Holi, Ganesh Chathurthi, Gudi Padava, Ugadi, and Makar Sankranti. You will also find Puran Polis being served during special ceremonies like marriage, child birth, and such. In fact, in certain communities a wedding feast is considered incomplete without Puran Poli. However, today, people who love to eat Puran Poli do not wait for any occasion, but prepare it whenever they feel like.
 How to eat Puran Poli: Puran Poli is made up of 2 parts – the sweet stuffing called the puran and the outer covering called as poli. There are many ways in which you can eat a Puran Poli; the most popular method is to eat it with milk and ghee. For this, pour a spoonful of ghee over the Puran Poli and fold it into half, now add warm milk over the Puran Poli, and savor the delectable dish. In many regions, the milk is substituted with a tangy lentil and tamarind soup called Kattachi amthi or Pulihora. Whether you eat it with milk or soup, it is customary to add lots of ghee to the Puran Poli and refusing ghee is considered impolite by many. 
So, this is how you savor Puran Polis. I am sure you would want to try making these delicious sweet breads at home; refer to these wonderful Puran Poli recipes on ifood.tv for further information. 
Image credits: google.com
How To Eat Puran Poli