How To Eat A Lobster

12 Aug 2010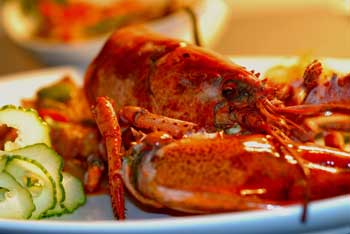 If you wish to have the pleasure of choosing your own victim as a meal, then learn to eat a lobster. There are several restaurants which offer you the unique opportunity to choose your own lobster for eating. Eating lobster is sumptuous and very enjoyable but you need to know what kind of lobster you wish to eat.
Here are some options for those who wish to eat lobsters.
1. You can eat a hard shelled lobster or a soft shell one
2. You have the choice of eating a large lobster or a small one.
3. You can eat a male or a female lobster.
4. A choice can be made between a green and a red lobster also.
Many people find it very difficult to eat lobsters – here are some tips on how you can eat a lobster.
• You can start eating a lobster by breaking its legs first. Hold the back of the lobster and pull off its legs slowly by twisting them.
• Tear the claws next. Claws cannot be eaten.
• You can remove the loose section of the claw. Now break the big section of this claw so that you can eat the meat.
• You can eat the meat which is present in the tip of its claw also.
• You should break its mouth parts, antennules, rostrum, beak and antennae – you cannot eat these parts.
• Twist the tail from the front portion and remove it.
The rest of the lobster can be eaten very easily.
You can eat lobster as a part of your meals – lunch or dinner. Lobsters are especially served on special occasions when lobsters are eaten with hot, sweet and sour and spicy sauces.
Image courtesy: mkweb.co
How To Eat A Lobster