How to Eat Fresh Herbs? - Turn Your dishes into a 'herb-i-vore' and Celebrate Tasteful Health

10 Aug 2010
Eating fresh herbs might sound like a prescription for the ailing, as herbs have long been coveted for their medicinal value. But the flavors of fresh herbs are what make some of your favorite dishes a topper.
So, how to eat fresh herbs and flavor your dishes with the freshness of good health?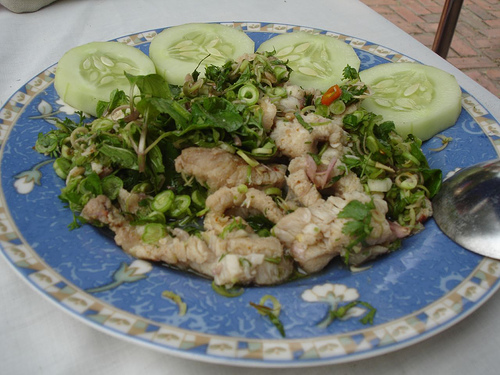 Fresh herbs render that additional flavor that your dish seems more inviting than usual. And the best part is you can afford to indulge in that extra bit of spice or fatty cheese, because an optimum quantity of fresh herbs sprinkled on your dish will just strike the right balance!
Herb-flavoring is chiefly used in Italian and Thai cooking and even in Mexican Cuisines. Some of the popularly used herbs are basil, chives, tarragon, thyme, and oregano.
Let us see how each of these herbs can be used aptly to your cooking, invoking a revelation on how to eat fresh herbs. But one important point to remember is, fresh herbs comparatively have less potency than dried herbs. So if your recipe recommends a certain quantity of dry herbs you use double the quantity of fresh herbs.
So how to eat fresh herbs and feel the freshness of your food 'piping-down' with flavor and health?
•    Basil:  Basil is a chief flavoring agent of Thai and Italian cooking. Fresh basil leaves can be used on garlic breads. Zucchini, fresh pesto and pasta sauce are where the fresh basil finds a place of honor.
•    Chives: Sea foods and egg dishes spruce up with chives' mild onion flavor, and they get a 'face-lift' at the same time , with the bright-green color of chives. Salad dressing, mashed potatoes gel well with chives.
•    Tarragon: Sprinkle fresh tarragon on egg-dishes, seafood and poultry dishes. When sautéed in butter, tarragon can flavor artichokes and asparagus.
•    Thyme: The strong and spicy flavor of thyme makes it a good additive in soups and stews. The fresh herb can also be added to flavor barbeque or chili sauce.
•    Mint: This herb delightfully completes the riddle on how to eat fresh herbs as it is used in almost all kinds of cuisines, transcending cultures. Fresh mint can be used in fruit salads, soups, along with carrots parsley peas, tabouli and tea.
•    Cilantro: A must ingredient for most of the Mexican, Asian and Caribbean recipes, cilantro as a fresh herb, can be added to salsas and tomatoes.
•    Parsley: Be it the curly-leaved mild parsley or the strong flat-leaved fresh parsley (preferred in most Italian cooking), parsley bonds well with potatoes and tabouli.
•    Rosemary: A healthful and beauty herb, rosemary can work 'skin-deep' to bring about a glow in your cooking and health as well. Rosemary leaves can be used in chicken, fish, lamb, pork, roasted potatoes, stews and tomatoes.
•    Sage: The 'saintly' herb can render its freshness in stuffing, and seasoning poultry dishes.
•    Dill: Cottage cheese, carrots fish, green beans potatoes and tomatoes 'hail' the Dill for accentuating their flavor.
•    Winter Savory: This fresh herb contrary to its name can render the warmth of its flavor to stews and dried bean dishes.
•    Oregano: How to eat fresh herbs such as fresh oregano? Simple. Use as a seasoning in your Mexican style pizza or pep up peppers and tomatoes.
The fresh herbs with their characteristic flavors can be best savored with our tips on how to eat fresh herbs, which simply 'pinch the leaves' of nature to bring to your plate a sprinkle of taste and a sparkle of good health!
Photo Courtesy: flickr
How To Eat Fresh Herbs? - Turn Your Dishes Into A 'herb-i-vore' And Celebrate Tasteful Health