How To Eat Tonkatsu?
9 Aug 2010
Heard often about "Tonkatsu" but not sure how to eat Tonkatsu? Here are a few tips that will let you know the different ways of eating tonkatsu.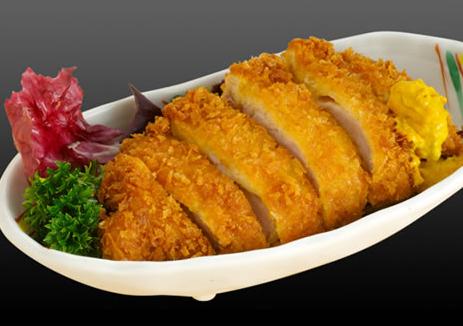 Tonkatsu – the traditional way:
Tonkatsu, in simple terms, is nothing but pork cutlets, which are breaded, deep-fried and sliced into small bites. Going by the traditional way, these are served with shredded cabbage and miso soup. A tasty high-protein and low-carb snack, it is unmatchable by any other Japanese dish.
Variation of the traditional way:
However, with time, the conventional method of serving, or rather, eating tonkatsu has changed. It has now become a wholesome meal in itself - and is not just limited to a lighter bite anymore. Today, tonkatsu is served with rice, miso soup and "tsukemono" (Japanese pickles) and is a full fledged lunch item. Pick them up with chopsticks and wash them down with a steaming hot soup, and enjoy the great taste of this Japanese dish.
Eating Tonkatsu with Sosu:
"Sosu", or sauces are complementary to almost all Japanese dishes – and tonkatsu is no exception to this basic rule. The best sauce to use for tonkatsu is the Japanese Worcestershire sauce, commonly known as "tonkatsu sosu". Made principally out of pureed apples, and served often with spicy yellow "karashi" (Japanese mustard) and a lemon slice, this sauce is a great combination for the fried pork cutlets.
Variation had been made to the tonkatsu sauces as well. Today, tonkatsu is also served with the Japanese "ponzu" (a citrus-based sauce) and grated "daikon" (long Japanese radishes).
Other ways of eating tonkatsu:
One of the popular, yet unconventional ways of eating tonkatsu is by making sandwiches out of them. Tonkatsu is used as the "katsu sando" (the sandwich filling) and then sliced into small bites. They are then served with salads and sauces.
The sandwiches are also, at times, served with Japanese curry. It is then termed as "katsu kare".
Tonkatsu is also served as "katsudon". In this case, it is served with eggs on a bowl of rice. Tonkatsu in this form is quite filling and is treated more as a single-bowl lunch time dish.
Thus, there are different ways of eating tonkatsu. You can have them as breakfast items, as light snacks or even during lunch and dinner. Tasty, delicious, quick and easy to make – tonkatsu is thus an all time favorite of both the young and the old.
Photo Courtesy: www.ichibanconcord.com
How To Eat Tonkatsu?