How to Eat Wonton?
Wonton also known as wantan, wanton, or wuntun is one of China's traditional foods known for its versatility. Once you have become familiar with Chinese cuisine you will realize that the question "How to eat wanton?" will have a dozen answers as the variety of wonton dishes available are simply awe inspiring. From Stuffed Wontons to Non-Stuffed Wontons, Pork Wontons  or Shrimp Wontons to Vegetarian Wontons and fried to boiled Wontons, the choice is going to be quiet difficult to make but tasty!!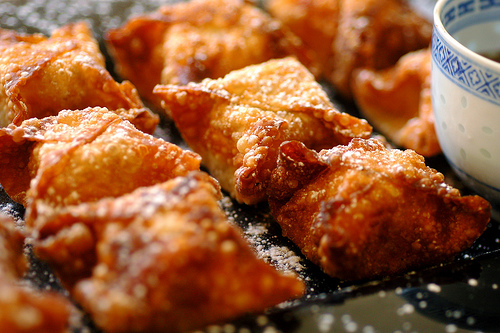 How to eat Wonton - steamed, boiled or fried?
 
Wonton consists of a square wrapper made out of flour. The stuffing goes into the center of the wrapper. Sometimes they are not stuffed. Then the edge of the wonton wrapper is scrunched together with your finger tips. There are a variety of wonton shapes that you can make. Once it is prepared, the wonton can be steamed, boiled or fried and sometimes pan-fried!!
 
If the wonton is made like a triangle where the opposite corners of the square wonton wrapper is brought together with the stuffing in the middle then it is easy to pan fry them. There is a pentagon shaped wanton that is created by first folding the wonton into a right triangle and then pressing together the end of the hypotenuses into the middle of the opposite side. Often, wontons are either added to dishes like soups or noodles or fried and eaten alone!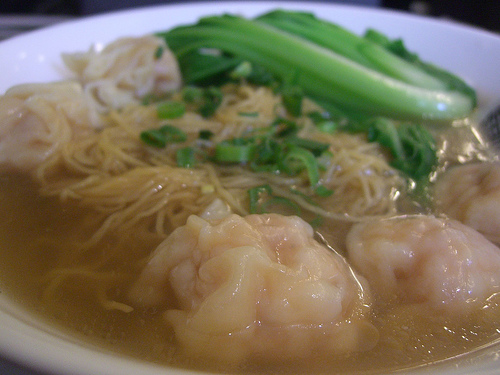 How to eat wonton – Without stuffing or Stuffed and with what kind of stuffing?
 
Wontons can come stuffed with a variety of fillings. The most common filings are minced pork meat, fresh or dried shrimp, oyster, fish, vegetables like onion and carrot, shallots and ginger. To flavor the filling sesame oil, sauces like oyster sauce or soy sauce and even pickles are used. Some wontons like the "three delicacies wonton" or san xian hun tun, mix pork, shrimp and fish and use as stuffing.
 
Often fried wontons do not have stuffing but there are exceptions. In the American Chinese cuisine, they are stuffed with creamy cheese and crab and such wanton are called Crab Rangoon!! You can always experiment with the fillings at home.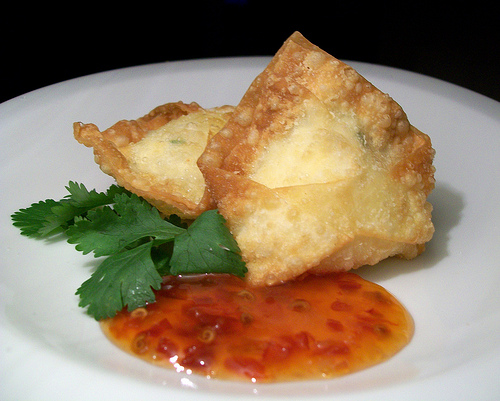 How to eat wonton – As a dry appetizer or in a soup, or as a part of your brunch?
 
You can eat a wonton whenever and however you want to!!!! Fried wontons can be served as appetizers with sauces like the duck sauce or Indonesian sweet and sour sauce. You can also add them to a clear noodle soup and serve as a wonton noodle soup. You can also add meat filled wontons to your chicken soup to make another variation. You can serve the wonton soup with condiments like pickles, ginger, sesame oil, and cilantro.
 
In modern days the wanton noodle soup has been modified and is often served stuffed with pork in clear broth that has BBQ pork and vegetables. Shrimp filled wontons are also served with thin noodles as Wanton noodles.  Red vinegar can also be served with Wanton noodles. Red Oil Wanton is another interesting Chinese wonton dish where semi pentagonal wantons are served with sesame paste and chili oil sauce.  Like in China, you can serve small wontons that are made by just casually closing the wrapper in your palm after a small amount of filling as a part of the brunch or breakfast spread. Large wontons on the other hand can be served as lunch or even dinner.
 
There are a myriad other wonton recipes that you can get your hands on and experiment with. I am sure you will love the wonton once you start eating them. Try it!
 
Image Credit
www.flickr.com
How To Eat Wonton?