How To Eat Omurice - Japanese Rice Omelette

5 Aug 2010
Omurice is Japanese rice omelette. If you are looking for information on how to eat Omurice, you will be happy to know that this can be eaten along with fried vegetables, wrapped omelette and in many other interesting ways. In any of the ways you choose to have this dish, you are sure to enjoy its taste. Here is some interesting information on how to eat Omurice.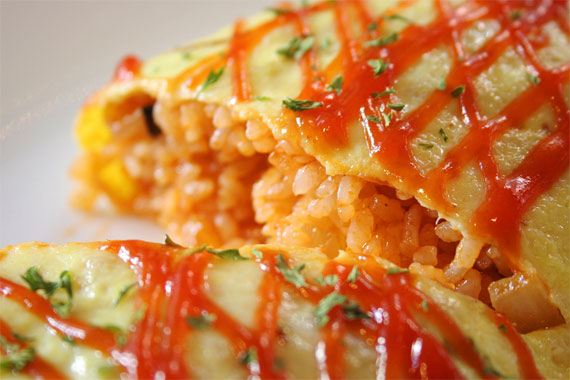 We know that omurice is a combination of omelette and fried rice. There are many variations in which this dish can be eaten. Here are some exciting ways of eating this food.
• You can eat rice and omelette without including any other vegetables in it.
• If you wish to add some variations, you can eat it by adding chicken to the rice. Now, you can eat many variations in this chicken also which is added. You can eat pan fried chicken; deep fried chicken or boiled chicken with your rice. This is completely up to you on how you choose to have the chicken.
• If you do not like to eat chicken in Omurice, you can include other meats such as pork. You can also eat omurice with some flavored beef stock.
• If you are fond of noodles, you can add some fried noodles too in the rice. It is sure to taste equally good.
• Ketchup is normally added to Omurice. If you wish you can add some other hot sauces especially when you are looking for a very spicy taste of your food. Enjoy eating spicy and hot Omurice.
• Mushrooms are eaten with Omurice – if you are not fond of mushrooms, you can eat other vegetables of your choice. You are sure to love its taste.
Image courtesy: degourget
How To Eat Omurice - Japanese Rice Omelette