How To Eat Hayashi Rice - Japanese Food

5 Aug 2010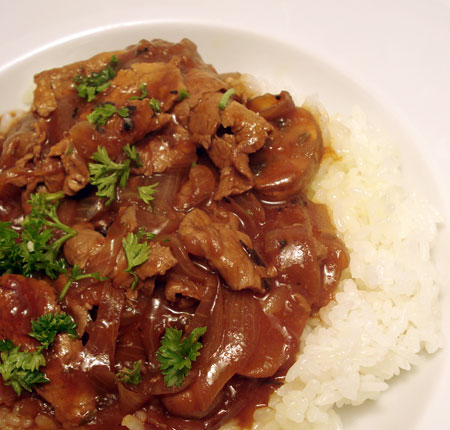 Before you try to find out how to eat hayashi rice, you should know what it is actually. This is a yohshoku dish - which means it is a Japanese version of a very hot and spicy western beef delicacy. Hayashi rice is usually eaten with mushrooms and very tender beef. It also tastes exquisite with a  thick sauce and can be eaten along with rice. Eating hayashi rice is popular during festive seasons but you can eat it at home whenever you feel like.
This is a common food of every Japanese home and there are no specific eating tips of hayashi rice. However, here are some ways in which this rice is eaten in Japan.
• To get the best aroma and flavor from this dish, you should eat it when it is hot.
• You can eat hayashi rice with vegetables of your choice. This means that you can enjoy this rice without all the vegetables you dislike. Add only those vegetables you enjoy.
• Hayashi rice tastes very good when black pepper is sprinkled on it before eating. This makes the rice spicy and gives it a good taste.
• You do not need any additional side dish when you are having this rice because beef is enough to enhance the taste of this rice.
• You can keep changing the flavor of the thick sauce which is eaten with this rice. You can add have this sauce sweet by sprinkling sugar.
Hayashi rice is eaten for lunch or as your dinner.
Image courtesy: justhungry.
How To Eat Hayashi Rice - Japanese Food