How To Eat Okra?
5 Aug 2010
Wondering what can be tasty way of consuming Vitamins, Iron and Calcium? The answer lies in finding how to eat okra. According to historical records, Cleopatra, the epitome of beauty loved eating okra. While, okra doesn't really promise the beauty of Cleopatra to us, it can surely promise to bring a storehouse of minerals and nutrients.
Okra can be eaten in different forms. You can fry them, toast them, roast them and consume in any way you want to. Here are some of the simplest methods of eating okra: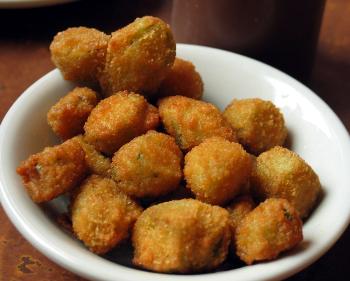 Fried Okra:
One of the tastiest ways of eating okra is to fry them. Again, there are two ways of frying okra. You can either stir fry them lightly, or deep fry them to make some crisp okras.
For the first option, heat butter in a pan and add some dices okra, tomatoes and onions to it. Season it well with salt, pepper, lime juice and thyme and toss lightly for about 5 minutes. Your stir fried okra is ready.
For deep fried okra, season some cornmeal with salt and pepper and coat the okra pieces generously with it. Fry them in hot oil and take them out when they start getting a nice golden brown color. Crisp and crunchy, your okra fries are ready.
Roasted Okra:
If all the frying and the oil don't lure you much, then go for the roasted okras. Simple to make and easy to cook, this surely is a favorite of all the healthy-minded people. Spray just a small amount of olive oil on the baking tray and the okras. Sprinkle some salt on the okra pieces. Start baking them at 450 F, stirring every five minutes, till they are brown on all sides. Your roasted okras are ready to serve.
Pickled Okra:

Pickled okra is a nice, tangy way of eating okra. Apart from the flavor, pickled okra is also the best way to store okra for a considerably long time. To make pickled okra, take a sterilized jar and add some dill seed at the bottom of it. Now, add the fresh okras and pack them as tightly as possible. Add some more dill seeds, green and red peppers and garlic. Boil vinegar, salt and water together and then add it to the jar. Seal and let it stand for a couple of weeks. Your pickled okra is ready.
Okra Soup:

What can be a better thing to do on a cold, winter evening than having a steaming, hot bowl of okra soup? Just add some okras and tomatoes to the pan and bring them to a boil. Add corn flour to thicken the soup consistency.  Season it with salt, pepper, chilly and lemon juice. Serve hot and enjoy!

Stewed Okra:
Stewed Okra is yet another delicious way of eating okra. A balanced mix of sausages, vegetables and shrimps, this recipe is one that not just touches your mouth, but your heart and soul as well.
So, try these simple variations of eating okra and enjoy the rare combination of taste and health that they always bring to your table.
Photo Courtesy: www.international.stockfood.com and www.google.com
How To Eat Okra?