Easy Tips On How To Eat Lettuce

3 Aug 2010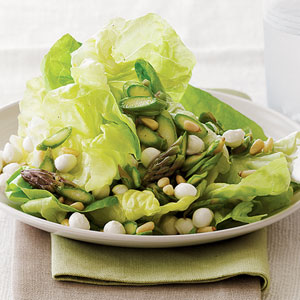 Lettuce is very easy to eat – if you haven't tried out making lettuce before, try out some exciting easy to make recipes. If you learn these recipes you won't have to scratch your head next time, thinking how to eat lettuce. Most of us know the popular ways of using lettuce in burgers and sandwiches – there is nothing much to do with the lettuce – you just need to boil it and spread it in any burger and sandwich. It is fresh and very refreshing.
Stir fry lettuce: If you have tried out Chinese dishes, you must have realized how lettuce is stir fried in their dishes. The process is very simple. They just heat oil and put in fresh lettuce leaves and stir fry them with soy sauce and vinegar. To this they love to add noodles, chicken, vegetables, fish balls or tofu balls as per their requirement. If cooked well the crunchiness of lettuce is retained in the recipe.
Lettuce salad: This is also known to most of us – you just need to spread fresh lettuce leaves on your salad. It will be very healthy, easy to eat and easy to digest. Lettuce leaves add to the nutrition count of the salad.
Wrap lettuce: This is one of the most interesting lettuce recipes which I have come across. Chicken is well marinated with salt, olive oil, soysauce, vinegar and other herbs. It is then steamed well or cooked in any other way as per preference. Once cooked it is wrapped well in lettuce leaves and eaten.
Small bites are very tasty and nutritious – try this new way of having lettuce and enjoy.
Image courtesy: 3.bp.blogspot ; img.timeinc.net/recipes
Easy Tips On How To Eat Lettuce