How To Eat Turnips In Innovative Ways

3 Aug 2010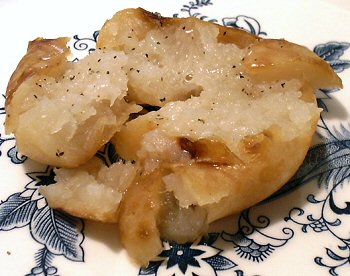 When my husband bought home turnips – I didn't know what to do with them. How to eat turnips – was the big question in my mind! If eating and cooking turnips seem to be confusing for you too – here are some suggestions. I am sure, you will be able to bring a change to the regular turnip recipe.
Baked turnips:
• Cook them just as you cook potatoes.
• Mash these cooked turnips with 1 cup milk.
• Add some sugar, 1 egg (beaten), baking powder and salt.
• Now put this mixture is a greased casserole.
• Bake at 350 degree for 30 minutes.
• Check if the top has greased well. If it has, it means your turnips are ready.
Turnip slaw:
• Shred turnips well.
• Mix 3 cups of these shredded turnips with 1 ½ cups of carrots ( shredded)
• Mix half teaspoon of sugar, 1 tablespoon of lemon juice. Stir them well.
• Add some raisins.
• Cover the bowl and let it chill.
Turnip salad:
• Cut turnips into small slices.
• Put these slices in a saucepan.
• Cover it with water and let them simmer till they become soft.
• In another pan, you will need to add ¼ cup of vinegar, 1 egg (beaten), 4 teaspoon of sugar, salt, cornstarch and 1 teaspoon of margarine.
• Let this boil in your pan. Keep cooking till it becomes quite thick.
• When the sauce thickens, you can pour it over your turnips and ensure that all turnips are well coated.
• You can serve it hot.
Image courtesy: genaw ; farm4.static.
How To Eat Turnips In Innovative Ways