How To Eat Eggplant

3 Aug 2010
Are you tired of having the same kind of eggplant recipes and wondering how to eat eggplant in any other way? Here are 2 eggplant recipes which might interest you. Eating eggplant can be good for your health as it contains some very essential nutrients for the body...try out these recipes and enjoy!  
Ratatouille:
• You can start by chopping onions along with peppers.
• Now, sauté the chopped onions till they are tender.
• Add 3 cups zucchini finely chopped.
• You can now cut the eggplant into small pieces and add it to the stockpot.
• To this, add chopped and peeled tomatoes. You can use tomato juice also.
• Let the mixture simmer for at least 1 hour in medium heat.
Your excellent side dish is ready to be served.
Now, another very easy and quick eggplant recipe just for you.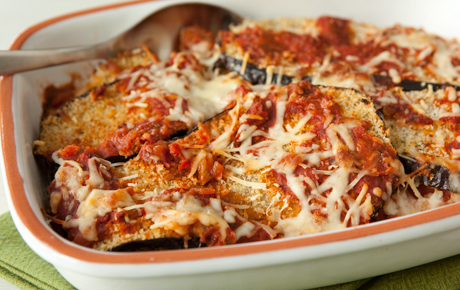 Eggplant parmesan:
• You have to fry the eggplant in onions just as you have done for the above recipe.
• Now, you will need a baking plan. Put some spaghetti sauce in this pan.
• Slowly transfer the fried eggplant slices into this dish. Make a single layer.
• Pour the spaghetti sauce over this. Cover it well.
• Sprinkle adequate quantity of grated parmesan cheese for a rich taste.
• Bake this in your oven for 50 minutes with the cover. Temperature should be 350 degree.
• Remove the cover and bake it for 10 minutes more.
• Check if the cheese is bubbly. If it is, your eggplant is ready to be eaten.
Image courtesy:  edelalon.com ; wholefoodsmarket.
How To Eat Eggplant