How To Make A Chocolate Cream Pie

16 Jul 2010
You don't need to acknowledge it always (especially when on a diet) – we all love to indulge in chocolate cream desserts and pies. Those who do not worry about calories and love desserts learn how to make a chocolate cream pie at home – no doubt, this is the most delicious dessert with which they can treat themselves at any time. This is loved by children – making it their choicest menus for birthdays.
Making chocolate cream pie is one of the most exciting cooking processes which I have come across – I enjoy every step of making this delicious cream pie as it uses all my favorite ingredients. Try it once at home and experience how it feels when you have cream cheese, chocolate chips, chocolate curls, pecan pieces all close by you when you are making it.
Here are some of those ingredients which you will need:   
• Cookie pie shell
• Milk
• Cool whip
• Cream cheese
• Mixing bowl – medium sized
• Pecan pieces, some chocolate pieces
• Splenda
Here is how you should proceed: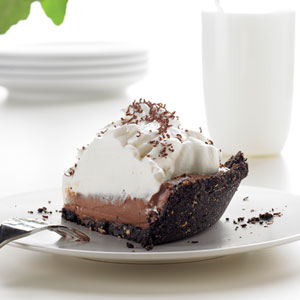 1. You can start the process by opening the pie shell.
2. You will now need a medium size bowl for mixing. In this bowl put half of the cream cheese.
3. Add two tablespoon of splenda in this. If you do not have splenda you can add any other type of sugar substitute.
4. Add one fourth cup of the delicious cool whip. You can add any cool whip which you love.
5. Now, mix all these ingredients in the bowl till it becomes very creamy and smooth. It should have a spreading consistency. If you feel there is a need, you can add some more quantity of cool whip into this mixture so that you are able to get this consistency.
6. You can now spread this sumptuous mixture in the bottom part of the pie shell. Once done, keep it aside.
7. You can wash the bowl now.
8. Pour in this bowl, any kind of pudding flavor you love.
9. To this mixture, you can now add half a cup of milk.
10. Now, the important task of whipping the mixture. You have to keep whipping the mixture, till it becomes smooth and starts to get thick.
11. Pour this mixture just on top of the cream cheese inside the pie shell. You will have to let this mixture harden now.
12. The mixture needs to become well set when you add the cool whip topping.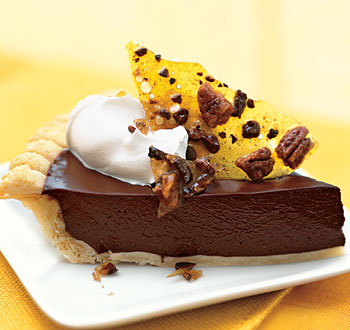 Your chocolate cream pie is now almost ready. You need to just decorate it as per your desire. You can sprinkle it with some chocolate chips, chocolate curls and also pecan pieces. Once, complete put in the refrigerator. Let it cool for an hour or more before you serve it. Children as well as adults enjoy this dessert.
Image courtesy: .kingarthurflour ;myrecipes ; listze
How To Make A Chocolate Cream Pie