Turkish Delight – A Delightful Candy
31 May 2010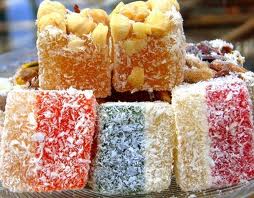 Have you heard about a delectable Turkish Delight - A Delightful Candy? If no then head to Spice Bazzar. A Spice Bazaar offers all the varieties of the very popular Turkish candies, like Turkish Delight, and other treats. It displays a wide array of dried fruits and an assortment of baklavah to choose from. 


But it is possible that nowhere on the planet you may find such countless varieties of the Turkish Delight, popularly known as Lokum in Turkish, as in the Istanbul Spice Bazaar. Lokum is a chewy, delicious, jelly-like confection that is prepared primarily with sugar and starch. The candy is usually flavored using rosewater, which lends it a light pink color. But, it is available in other flavors like lemon, mint and many more. Turkish Delight with nuts inside is very commonly available. Hazelnut and pistachio are the ones that are mostly suspended inside the nuts. 
While you are at the Spice Bazaar and you get confused about which variety of the Turkish candy to buy, you can ask the vendor for a taster which will be happily offered to you. Or the case may be that you get hooked, then you may either ask them for the recipe or make your version of candies at home.  
Image Courtesy: t2 static images
Turkish Delight – A Delightful Candy