Eat Raw Mangoes to Remain Healthy and Young

14 May 2010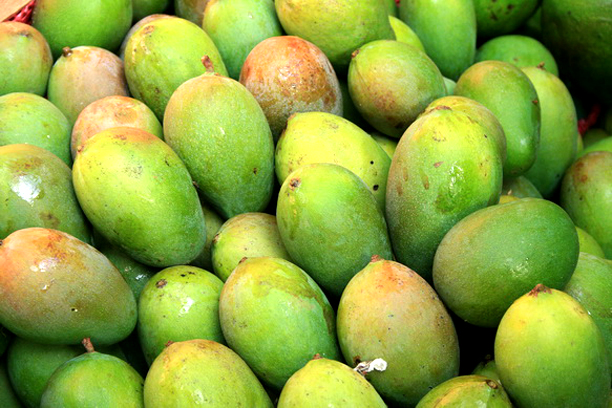 Did you know that raw mangoes are good for health? In this summer season if you want to retain the salt in your body, add some salt to raw mangoes and have it. It is also a good source of antioxidant which gets rid of those free radicals in your body and keeps you looking young.
We all know it is a rich source of Vitamin C and have the quality to retain iron in our blood. So ladies don't miss raw mangoes in this season. Raw mangoes also prevent diarrhea and heat stroke.
Some easy mango recipes if you are not so particular about names of a dish. If you are a spontaneous cook like me, I am sure you would just make the best of all that you have in your kitchen.
Here are some amazingly easy raw mango recipes:
Raw Mango Recipe 1
You have raw mangoes, jaggery and coconut shavings and for seasoning you have red chilli, asafoetida , mustard seeds, fenugreek, salt and turmeric in your kitchen, you are now ready to make a tangy and sweet dish.
Add mangoes, jaggery and coconut shavings in the mixer to make a smooth mixture. Then heat oil in a pan and add asafoedtoda, mustard seeds, fenugreek, red chilli, and turmeric and leave it to cool and knead it with the mango mixture.
Eat it with rice or roti.
Raw Mango Recipe 2
Boil the mango in a cooker and then leave it to cool. Remove the skin and squeeze the mango pulp into a container. Add salt and sugar to it and run it in a mixer to make a smooth mixture. Now add chilled water to it. It just tastes yummy.
The secret of a great cook is imagination, time sensitivity, knowledge of proportion and patience.
Eat Raw Mangoes To Remain Healthy And Young