How To Eat Healthy At A Chinese Food Buffet?
Eating healthy at a Chinese Food Buffet is a tough job, isn't it? With all those soups, spring rolls, wantons, noodles and cookies, it become a little difficult to eat healthy, but we are here to help.
Next time you are invited to a Chinese food buffet, try these tips and you will find yourself eating healthy, staying fit and even enjoying your meal. What more could you ask for really now!
1) Choose wisely: Whenever eating at a Chinese food buffet, make sure that you choose wisely. For instance, between fried rice and plain white rice, go for the latter because it is not fried, as simple as that. Similarly, you can think of taking a walk along the buffet table before picking up your plate, which will give you time to register what else is served.  This way, you can give your mind some time to take in the smell and sights on offer at the buffet, after all, you can't gain weight by doing that, now isn't that clever?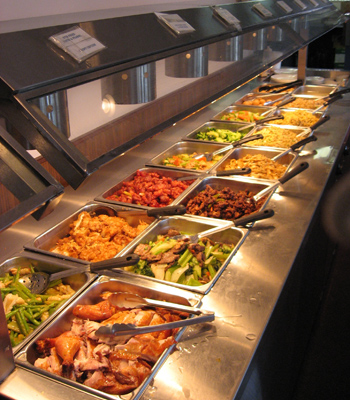 2) Choose healthy: If you want to eat Chinese but keep your health as well, choose healthy. This means going for dishes with steamed, instead of fried, vegetables. You can choose dishes like chicken or shrimp with mixed vegetables. Even when cooked with sauce, steamed vegetables carry lesser calories. Besides, they are the best source of vitamins and fiber, which your body really needs.
3) Sit back and enjoy: Don't rush into your Chinese food buffet. Take your time to pick a soup and an appetizer to start with. Then take them to your seat and enjoy both while making small talk with whom you are with. You can pick up from a range of appetizers, which, by the way, are a specialty in Chinese cuisine. From dim sum to spare ribs, to fried shrimp and chicken, you can pick a piece from each of these and enjoy it leisurely. Don't worry, there is more to come!
4) Avoid high fat dishes: While going back for your main course, take care not to go berserk with the meat dishes, which are, more often than not, high in fat content. In case you want to have a taste of Chinese meat, go for chicken, which is usually steamed, not fried. We know how much you like having a taste of General Tsao's chicken and Mu Shoo Pork, but then it is your health we are talking about, right?
5) Do not Pile up your plate: This is one mistake that is oft-repeated at buffets, Chinese food buffet being the most common place. When you start serving yourself from the buffet, make sure that you choose wisely, as mentioned earlier. But that doesn't mean you cannot eat everything. Of course you can, but you have to be patient and calm. For instance, while choosing between rice and noodles, choose both, yes! Choose both. But in small quantities, so that you can enjoy your favorite food but without filling yourself up.
(Photo Courtesy: google.com)