How to Make Popcorn More Healthy
26 Apr 2010
Popcorns are one of the best known snacks of all times, but they are far from healthy. Not at all suggested to people on a diet, popcorns prepared using butter and vegetable oil are not even ideal for kids as they are very high on fats. 
However, by trying out a few permutations and combinations, you can make popcorn that is low in calories as well as fats and you can sit back and enjoy the yummy snack without worrying about the fat piling around your waist.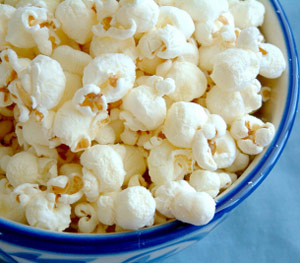 Tips -
1) One of the best ways to avoid calories and fats in popcorns is by choosing a butter that is low on salts. 
2) Using extra-virgin oil or olive oil instead of vegetable oil and butter is also a good option. 
3) Also try and make popcorns only on stove and avoid using microwaves. Microwaved popcorns though popular, are unhealthy for consumption, especially by kids. 
4) Also try and use unpopped popcorn as they are healthier compared to packaged microwave popcorns.
Image credit - prevention
How To Make Popcorn More Healthy