Top 10 Low Calorie Cocktails

16 Apr 2012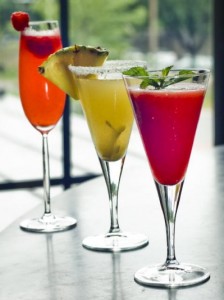 Afraid to order a cocktail cause you are concerned about your weight? Did you know there are several low calorie cocktails that would help you limit your calorie consumption while consuming alcoholic beverage. Here is a ready reckoner of drinks you can order without worrying too much about your waistline.
Low Calorie Cocktails
Laurent-Perrier Ultra Brut Champagne: Champagne has one of the lowest calorie content, and this particular cocktail gives you only 60 calories per serving.
Rocket Glare: This drink make with KU Soju (Korean liquor), is a better option than vodka, and hen cranberry juice is added to it it make a great drink with 95 calories.
Italian Summer Sipper: Strawberries, fresh basil, and balsamic vinegar added to Corzo Silver is a perfect cocktail, warm and breezy- its calorie content only 100 calories.
Mojito: A refreshing mix of rum to a glass with pressed mint leaves, and sugar, topped with a splash of lime juice and soda water. If you use an artificial sweetener you could cut more calories. If you use KU Soju the calories come further down.
Sake Sunrise: A mix of sake, orange juice and a splash of champagne set you back only by 120 calories.
Watermelon Martini: It contains only 125 calories, which can be further reduced if it prepared with agave nectar instead of sugar syrup.
Skinny Peach Tea: Vodka with diet iced tea is an appealing drink more so because itl gives you only 130 calories.
Stars and Stripes: Another drink with KU Soju as a base along with blue curacao and ginger ale is a mildly fizzy drink that gives 140 calories.
Barbequed Bloody Mary: This drink is low in calories (155), and rich in antioxidants so is a perfect choice when it comes to cocktails.
Margarita (with a twist): Did you know a frozen cocktail with a salt-rimmed glass contains about 400 calories, why not opt for a margarita on the rocks which contains just 170 calories.
Smart Ordering Tips
Know your drink. Always remember the chunk of calories comes from mixers, sweetners, other beverages added to the cocktail. Keep it simple switch these with club soda, tonic water or low calorie beverage.
Choose you alcohol wisely.
Hold your drink. This not only enhances the taste of alcohol, ultimately you reduce the calories consumed.
Order a bigger cocktail, it will reduce your urge to drink more.
Cut down on snacks between drinks which adds to your caloric intake
Image Credits:  bylara.me
Top 10 Low Calorie Cocktails