Vitaminwater is it a big deal?
Hope you guys are enjoying the holiday weekend. I know I am, I love the dog days of summer.Nice cold drinks, a good book and peace this is how I spent my Saturday.
I was going through an old issue of Good House Keeping and came across this article that opened my eyes. The real meaning of counting all those calories and the most important..... is it any good. It sure surprised me. Most of these calorie cutting ideas tell you to have baby carrots for snacks or pretzels instead of chips. What they don't know is that they are not being realistic. But what I am about to share with you is really an eye opener.
The switch out is easy..
1. Instead of 20 peanut M&Ms have 20 regular.
2. Instead of a sandwich with regular bread have it with light bread.
3.Instead of having a cereal with banana have it with strawberries.
     Isn't that easy to do?
4.Instead of pecan pie have a blueberry or lemon meringue pie. Any day pal:)
5. Instead of grilled cheese with butter make it with butter flavor cooking spray.
6. Instead of strawberry daiquiri have  a glass  of white wine.
The best of all----
7. Instead of 20oz bottle  Vitaminwater have a daily multivitamin pill with water. And you were spending all that money on the THING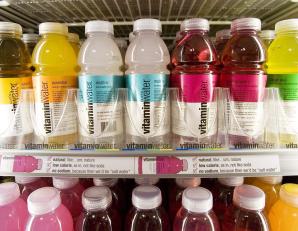 SORRY Mr. Coca Cola you recently purchased cannot be returned.
This surely should help all those diet friendly friends of mine. You are very Welcome.
Enjoy the vitamin pill everyday!!!! 
Vitaminwater Is It A Big Deal?