MIXED DRINK(NON ALCOHILIC)
17 Nov 2006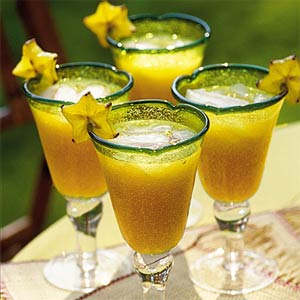 (1)NEW YEARS PUNCH BOWL
1 liter Non-Alcoholic Peach Schnapps
1 Quart Orange Juice
1 Quart Pineapple Juice
1 750ml Non-Alcoholic Brut Champagne
Combine ingredients in punchbowl, float ice ring and slices of orange. (Serves 20 people.)
(2)HAWAIIAN PUNCH
3 cans Large frozen Hawaiian Punch
2 cans Large frozen Orange juice
2 quarts Ginger ale
3 cans Large frozen Lemonade
1 quart Raspberry sherbert
In a LARGE punch bowl, follow can directions for each frozen juice. Spoon in rasberry sherbert and whip it up. Pour the ginger ale slowly around the edge of the punch bowl (2 bottles).
(3)FRUIT PUNCH
30 cups Unsweetened pineapple juice
30 cups Cranberry juice cocktail
11 1/4 cups Orange juice -- chilled
11 1/4 cups Club soda -- chilled
Ice cubes
Lime slices
Combine the chilled ingredients in a punch bowl just before serving.
(4.)LONDON TOWN GRATITUDE PUNCH
1 cup Tang
1/2 cup Sugar
2/3 cup
Instant tea powder
3 ounces Pkg Wyler lemonade mix
1/2 teaspoon Ground cinnamon
1/4 teaspoon Ground cloves
Combine all ingredients.
Use two tablespoons per cup of boiling water
(5)CRANBERRY PARTY PUNCH
3 cans (12 oz.) frozen lemonade Thawed and diluted
1 quart Cranberry juice cocktail
1 cup Frozen orange juice Thawed and undiluted
1 Bottle of ginger ale (28 oz) 1 each
Orange -- thinly sliced
Combine juices and chill. Add ginger ale just before serving. Garnish with orange slices.
Yields 1.5 gallons.
One of the cans of lemonade concentrate may be diluted and frozen to make an ice ring or cubes
Image Credit: mamoru2000.blogspot.in
MIXED DRINK(NON ALCOHILIC)