How To Mix Alcohol With Hot Chocolate For A Hot Winter Night

2 Feb 2011
Nothing is more welcoming than com home on a winter night to a warm house and a cup of hot chocolate waiting for you. And if there is an urge for drinking something more potent, just mix alcohol with hot chocolate and voila! You have an interesting cocktail in your hands.
We've tasted chocolate and alcohol combination a number of times in rum cakes, rum balls, rum chocolate and many more such variations, and mixing chocolate and alcohol is another heavenly way of trying this combo.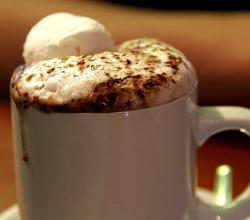 The smoothness of hot chocolate and headiness of alcohol mix well together to provide with a heady concoction. And the best part, there is no set rule! Just increase or lessen the amount of alcohol that you want in your drink, to suit your taste.
But before you mix alcohol with hot chocolate just remember that only certain alcoholic drinks like vodka, rum, brandy, Irish whiskey, tequila, or cognac go well with chocolate. You can even use liqueurs. Beer might not go well with hot chocolate.
Mixing chocolate and alcohol is not really a tough job. Just follow these simple steps and your drink will be ready in no time:
Prepare hot chocolate as you make it usually and make sure the cup or tumbler has enough space to add alcohol after you pour hot chocolate into it.
Now to mix alcohol with hot chocolate, just measure out the amount you want to add to your chocolate and mix it in.
Your drink is now ready! Just take a sip and taste. If you find something lacking, like if you find alcohol content to be less, just add accordingly and sit back and enjoy.
So what are you waiting for? Just mix alcohol with hot chocolate and hot up your winter nights!
Image credits: ifood.tv
How To Mix Alcohol With Hot Chocolate For A Hot Winter Night