Best Mixed Drinks To Make For Men

9 Jan 2011
Sometimes mixed drinks give more  pleasure than drinking neat alcohol. Mixed drinks are also known as cocktails. Though, wines and beer are most liked by men, mixed drinks give a refreshing and surprising change sometimes.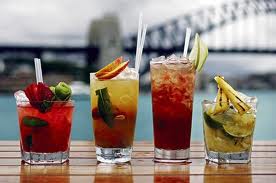 Mixed drinks are made by the combination of alcohol with fruit juices or soda. Sometimes sugar, milk, cream and honey are also added to increase the flavor.
Mixed drinks are not only limited to bars and pubs, they can easily be made at home also. Variety is said to be spice of life, and through this blog, i will share some amazing mixed drink ideas for men who love variety.
Brandy Alexander- A reviving drink made by assorting brandy, cream and crème de cacao is certainly one of the best mixed drinks. Pep it with some ice cubes and a sprinkle of nutmeg.
Appletini- Appletini is a summer drink and as the name suggests, it is rich in apple flavor. 2 oz. Green Apple Vodka and 1 oz. Sour Apply Pucker Schnapps mixed well with olive vodka makes the drink tasteful and highly enjoyable.
Singapore Sling- This is one of the most popular drinks which is made from combining gin, Grenadine, maraschino berry and pineapple. One of the best mixed drink, Singapore sling can be garnished with pineapple slice and maraschino berry.
Black Russian- This shiny and smooth drink is made by mixing 2/3 oz. liqueur coffee and 1 2/3 oz. vodka. Serve it in a cocktail glass with some ice cubes. Men will never say no to this drink.
Rum Runner– A fruity drink made by assorting rum, black berry brandy, orange juice and pineapple juice. Crème de banana and grenadine add to its flavor making it one of the best mixed drinks of the season.
The Bay Breeze- Also known asDowneaster or Hawaiian Sea Breeze, Bay Breeze is a cocktail which has a Cape Codder as its base. This drink is made by mixing vodka, cranberry juice, and pineapple juice. The drink can be made more refreshing by adding ice cubes and by garnishing with lemon slices.
Mixed drinks are great drinks which you can enjoy while partying or relaxing with family or whenever you want to quench your thirst. Enjoy drinking!!!
Image credit- dopegirlfreshattire.com
.
Best Mixed Drinks To Make For Men