10 Drinks To Make With Champagne
10 Dec 2010
Champagne is the life of a party and the drink of choice for any celebration be it at home or office. What is a graduation party, a victory party or a birthday party without that bubbly called champagne? Since the 1800's Champagne cocktail has been around in society serving all rungs of society. Today this mixture of a sparkling wine and fruit is a rage in bars, lounges or any party.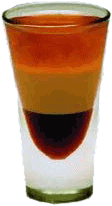 A party at home can be made frothier with some interesting cocktail drinks. Here are 10 drinks to make with Champagne that you could try out. The bitters in it add the flavor and color while the visual delights can be added with a sprig of mint or rosemary on the flute, maybe a couple of them floating on the surface too. Add a thin slice of lime wedge or orange peel to the rim of the glass and watch it add to the appeal of the Champagne drink.
Champagne Drinks:
1. Classic Champagne Cocktail: 1 cube sugar, Angostura bitter and chilled champagne. Soak the sugar and Angostura bitter in a flute. Fill with sparkling wine and a lemon twist.
2. KIR Royale: 6oz Champagne, 1 splash Crème de Cassis. Serve in large Champagne flute or white-wine glass
3. Ginger Champagne: Add grated ginger to boiling water with angostura bitters in it. Add your bubbly to this and serve chilled garnished with rosemary or mint.
4. Mexican 55: 1 oz tequila,½ oz fresh lemon juice,½ oz syrup, 2 Angostura bitters,sparkling wine and a lime wedge. Shake the ingredients in ice in a cocktail shaker and transfer to glass. Add the sparkling wine and the lemon wedge.
5. Old Cuban: ½ oz aged Rum,2 dashes Angostura bitters,¾ oz lime juice,¾ oz syrup, 5-6 fresh mint leaves, sparkling wine. Combine the Rum, bitters, lime juice, syrup and mint in a shaker and transfer to a glass topping it with sparkling wine
6. Elysian Nymphs: ½ oz Cognac, ½ oz Grand Marnier, sparkling wine and a thin orange slice. Pour the Cognac and Grand Marnier into an ice-filled brandy snifter. Top with sparkling wine and add the orange slice to the side.
7. London Special: 1 cube of Sugar, 2 dashes Bitters, Chilled Champagne to go with it.Put a large twist of orange peel into champagne flute. Add sugar and bitters. Fill with Champagne and stir.
8. Goodnight Kiss: Add Cognac or Campari instead to the classic Champagne cocktail drink and you have the wonderful Goodnight Kiss ready to serve.
9. Mimosa: Add 5 oz of sparkling wine and 1 oz of freshly squeezed orange juice. Add a wedge of orange slice or float a strawberry in it for this refreshing drink.
10. The Ghost: 5oz of sparkling wine and 1 oz of Midori (melon liqueur). The contrasting fruitiness and sharpness of the wine gives a nice flavor.
 For cocktail lovers any of the above can be made in no time and several more can be whipped up with just a dash of sparkling wine or bitters and the right touch of liqueur and fruit. So go for it and give it a whirl today!
Image Credit: Ways to drink Champagne  & Wikimedia Commons
10 Drinks To Make With Champagne