How to Mix a Blue Hawaiian Drink
2 Dec 2010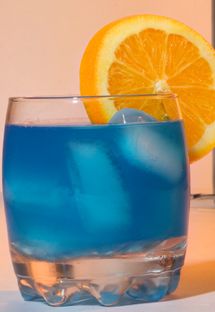 The Blue Hawaiian is a very popular tropical cocktail drink which is available at several personal and public bars around United States. Especially popular in Hawaii, this drink features in tiki bars and beachside menus. It has flavors of pineapple and coconut to complement the sweet taste of the liquor in addition to the atmosphere that it is most often drank in. It can be served at parties and tastes amazing when drunk with light tropical meals. Here is how to mix a blue Hawaiian drink?
Pour 1 oz. of light rum, 1 oz. of vodka, 1 oz. of Blue Curacao liqueur along with 2 oz. of pineapple juice and 1 oz. of cream of coconut together into a blender.
Also add 1 cup of ice to the blender and blend this mix at high speed.
Once it is blended, the contents must be poured into a highball glass and then decorated with a blueberry inside the drink in addition to a pineapple slice which is fitted on the rim of the glass.
image credits : funnfud.blogspot.com
How To Mix A Blue Hawaiian Drink