How To Drink Jamaica?
Ever had the chance to drink Jamaica? No...I am not talking about the island but about a refreshing drink that is very commonly prepared in Mexico. For those who like slightly tangy and herbal drinks then you really need to learn how to drink Jamaica? This ethnic and brilliantly red colored drink is a beverage that you shouldn't miss!!!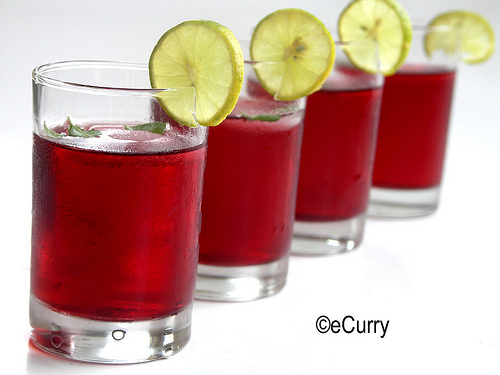 This Mexican drink is nothing other an infusion made from the hibiscus sepals of the Hibiscus sabdariffa flower. The drink is a little tart and has a cranberry like flavor.
 
They can be served both hot and cold though usually the cold version is preferred. Similar to an iced tea, this drink can be served chilled in a tall glass or a large wine goblet with a slice of lemon.
 
You can either drink Jamaica that is made from either processed powder drink mix or from dried hibiscus flowers which is powdered and then allowed to steep in hot water. Personally, I would prefer drinking the original drink made from the dried flowers!
 
The diluted concentrate is then served cold after it is sweetened. You can sweeten this delicious beverage by either adding sugar or honey.  If you are serving this beverage warm then be careful when you add sugar as the natural tartness of the drink might be overpowered by the sweetness of the sugar. If you are diabetic, use splenda. When you are serving or drinking Jamaica if it tastes too tangy add more water and add sugar if it tastes tart.
 
If you are in Mexico and want to help yourself to this aromatic drink then remember to pronounce the drink as "Ha-mai-kah" and not "Ja-mai-kah". A better deal would be to ask for Aqua de Jamaica.
 
You can also serve Jamaica mixed with carbonated or soda water. Sometimes you can mix in some rum with the drink. Or you can also drink it after spicing it up with some mint or chopped ginger, sugar, clove, cinnamon, and nutmeg. It is even turned into a wine after mixing the flowers with some Chinese tea leaves while steeping. If you want it simple just squeeze in some lemon juice.  
 
You can drink a glass of chilled Jamaica whenever you feel like you need a refreshing drink, serve them for dinners or tea parties. I am sure it will be a success.
 
Trivia on Jamaica
 
The drink is also well known for its medical properties. It is rich in Vitamin C and is well known for its diuretic effect. It is also supposed to help those who suffer from hypertension and high blood pressure.
 
Image Credits
http://www.flickr.com/photos/somagallery/
How To Drink Jamaica?