How Do I Make Banana Daiquri Mix Without Alcohol
People often ask me how do I make banana daiquri mix without alcohol. This fruit drink is actually made with rum and bananas and so I often get to hear this question. Where many people love to indulge in this amazing cocktail, there are people who would prefer it without the alcohol and so, I learnt to make the non-alcohol version too. If you are fond of bananas and you love fruit punches, then the banana daiquri mix is surely going to make your day. So, today, I am going to tell you how do I make banana daiquri mix without the usage of alcohol.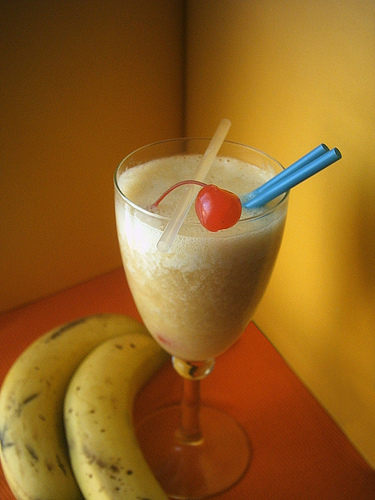 Recipe for making banana daiquri mix
This recipe for making banana daiquri mix doesn't take any more than 5 minutes. This popular tropical resort drink can be enjoyed even without alcohol and I am going to show you just how …
Ingredients you need
To make banana daiquri mix, you will need 6 oz. each of banana nectar and lemonade, 4 oz. of lime juice, 2 cups of ice and pineapple wedge.
Banana daiquri equipments
You will need one blender and a Margarita glass. You can also use any other kind of glass.
Instructions for making banana daiquri mix with no alcohol
Firstly, fill your blender with the 2 cups of ice. Then to the blender, add the banana nectar, lime juice and also the lemonade. Now, cover the blender with the lid. Blend the mixture until it becomes smooth. Now, switch off the blender and open the lid to pour off the contents of the Banana daiquri mixture into the glass. A 16 oz. slender and tall glass is ideal for serving Banana daiquri mix.
For garnishing
You can garnish this amazing banana daiquri concoction the way you like. I mentioned a pineapple wedge here, so, you can garnish your drink with it. The other popular ways of garnishing this drink is using wedges of maraschino cherry or lemon.
Variations
This drink can be made in different variations. For example, if you want to make the drink thicker, you can opt for the banana fruit. You can simply chop it into small pieces and blend it with the mixture.
Picture Source: farm4.static.flickr.com