Making Pasta And Much More

1 Mar 2009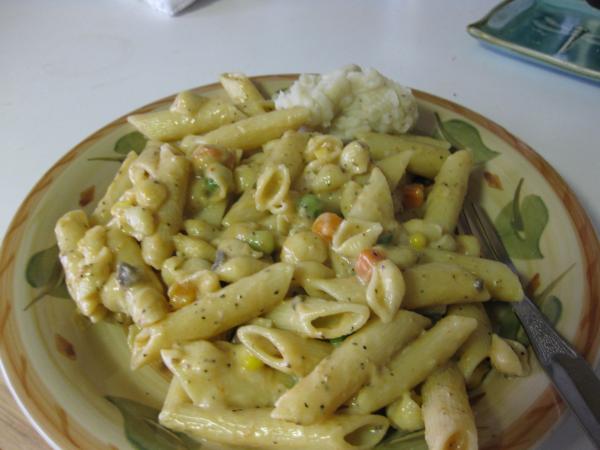 I really haven't made serious pasta before. It just happened that there wasn't much left in the kitchen except some pasta and some canned stuff. So I ended up experimenting and making Pasta with a sauce of cream of mushroom.
The fun part was experimenting with the sauce. So basically I heated some butter, added some milk, garlic and pepper (sounds pretty weird) and when the mixture had heated up, I added a whole can of cream of mushroom (Campbell's). To add a bit of tanginess mix in some Tomato and Basil sauce and kick the whole thing up with some garlic pepped. And then after a while you put in the cooked pasta. That's it. When you are almost done, toss in some shredded parmesan cheese to make the pasta rich and cheesy.
The whole thing really came out awesome - the cream of mushroom base provided the creaminess and the chopped garlic and tomato paste added a complimentary taste. And lastly the pepper granules provided the right amount of hotness. See below.
Step 1 - Boil water and then throw in the pasta and let it boil
Step 2 - Boil some cut veggies (make sure you have corn)
Step 3 - Heat butter and throw in some milk, garlic and tomato sauce.
Step 4 - Mix the boiled veggies with the sauce and then put in the pasta.
Step 5 - Add the shredded cheese.
Step 6 - Add more garlic, pepper, stir and serve with some mashed potatoes.
Making Pasta And Much More