Spring Pesto
2 May 2012
Spring Pesto
Do you see little green clusters popping up in your garden? As I walk around I see over-wintered thyme, tall garlic chives, spicy oregano, blooming rosemary, vigorous Flat Leaf Italian Parsley, just planted basil, Pineapple Sage, and waking up again tarragon are growing towards the warm caress of the Springtime sun.
After reading a recent newsletter from Hudson Valley Seed Library it tweaked my interest in making a Spring Pesto. I also have a couple of gorgeous California artichokes begging to be included in the pesto! Their butteriness will tone down the greeness of Spring herbs. Avocado, nettles, peas or asparagus also are great in a pesto!
When my first tomatoes are ripe-probably Stupice, I'll garnish a Pesto Pasta with generous chunks of them, or if the cherry toms beat them, I'll use them sliced in half :-)
Spring Pesto Harvest
Use whatever is in your garden. The following can be used as a guide.
handful of garlic chives including flowers!
few sprigs thyme, strip the leaves off the woody stems
few sprigs oregano, stems removed
3 cloves Spring garlic
couple sprigs Italian Flat Leaf Parsley
3 or 4 Arugula leaves
few leaves of sage
handful tarragon, stems removed if woody
few basil leaves
4 tablespoons chopped nuts or seeds (pumpkin seeds are great mixed with cashews or almonds)
1/2 EVOO
Sea salt to taste
Few grinds of 4 colour peppercorns
1 Meyer Lemon-juice as needed
Optional cooked, cleaned artichoke hearts or avocado, or green chile for spice
Place all prepped herbs and greens in the bowl of a food processor.* Add salt, seeds and nuts and process until well blended and smooth. Add a little lemon juice to maintain green colour!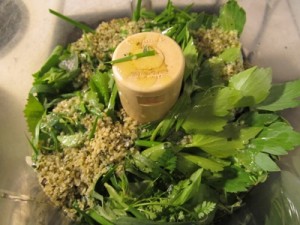 Add more oil if necessary.
Use immediately, or store by placing in an air tight container with a layer of olive oil on top.
Makes 1 to 11/2 cup of pesto.
I love using this Spring Pesto on pasta! Toss in some slivers of sun dried tomatoes for colour, texture and tanginess.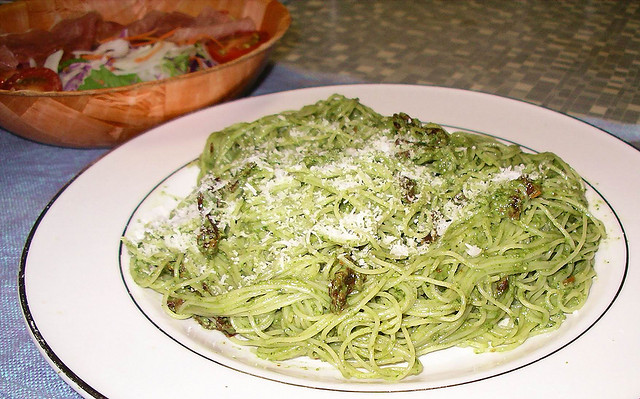 Variations-use asparagus and toss in toasted pinenuts: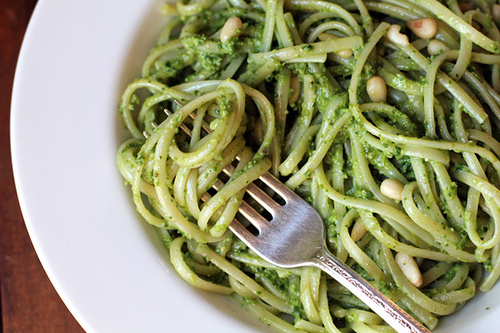 Pesto brings a pot of homemade veggie soup to life!
Want to learn to prepare recipes from around the world?
WorldOnMyPlate-subscribe@yahoogroups.com

 
Want to learn to grow your own herbs and veggies?  FREE Seedbank too!
TomatoMania-subscribe@yahoogroups.com

 
Mary-Anne
Site Editor
Thai Food Editor
http://ThaiFood.bellaonline.com
Spring Pesto