Tips To Prepare Low Calorie Lemon Pie

3 Apr 2012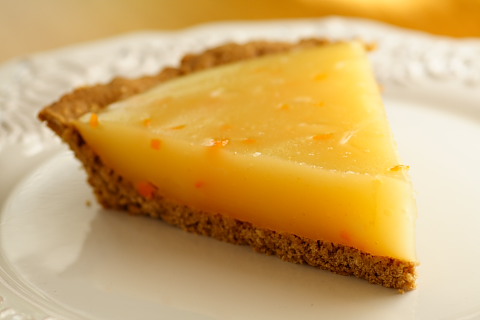 The citrusy sweet flavor of lemon pie is irresistible, but for those who are trying to manage weight or simply eat healthy, the yummy slice of pie is just a method of piling calories. What if there was a way to enjoy the taste and keep the calories at bay? Here are a few simple tips that you can incorporate in you day to day life to make innovative dishes like low calorie lemon pie which contains less of  fats and sugars but lets you enjoy the health benefits of lemons.
How To Prepare Low Calorie Lemon Pie
The crust of a pie is calorie rich as it high in fats and sugars, if we reduce the amount of crust in the pie by eliminating the top crust, we can halve the amount of calories in a slice of pie.
The crust can be made healthier by use of less processed ingredients like whole wheat, oats, low fat crackers, etc. These improve the dietary fibre levels which would in turn control weight, blood sugar, and cholesterol levels in the body.
Use butter replacements that are low in saturated and trans fats.
Instead of sugar, low calorie sugar substitutes containing sucralose can be used. These are sweeter than sugar and completely eliminate simple sugars from the recipe.
The accompaniments of lemon pie must be chosen with care, always use low fat whipped cream, fresh fruits, etc.
Use egg substitutes or minimum yolks and more of whites. This lowers the fat and cholesterol content without compromising the protein content.
Use skim milk instead of full cream milk.
Use an oil spray instead of greasing the pie pan the traditional way.
Now let us take a look at how these minor changes in the ingredients can make a huge difference in the nutrient content of food.
Nutrient Content Comparison of Traditional Vs Crustless Low Calorie Lemon Pie
Nutrient/serving
Traditional
Low Calorie Lemon Pie
Total calories (Kcal)
400
143
Fat (g)
20.6
6.1
Saturated fat (g)
3.2
1.2
Total Carbohydrate (g)
54.5
16.2
Cholesterol (mg)
0
0
Sodium (mg)
497
317
Protein (g)
3.8
5.9
Try out frozen lemon custard and lemon snap cookies low calorie lemon based recipes which can be easily prepared at home .
Image credits: food-easy-recipes.find-how.com
Tips To Prepare Low Calorie Lemon Pie