Resident Chef Contest Appetizer Entry 2nd Winner - Khandvi

28 Mar 2012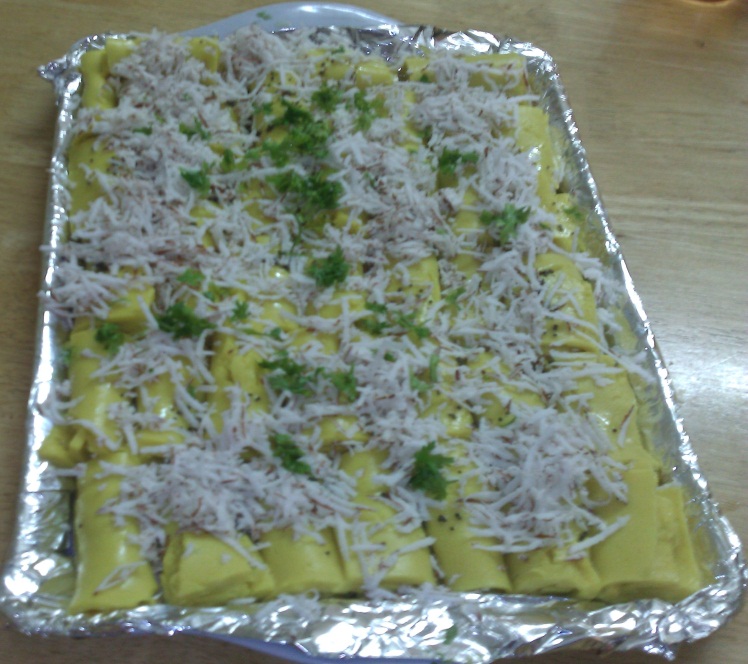 "What do you call this and how do you make it?" was what I asked when I first tasted the yellow colored soft roll which was all covered with coconut.
"It is called Khandvi" said Anisha.
Anisha joined the fifth grade in our school and the conversation took place the very same day when I had a tasty bite of Khandvi from her tiffin.
Since the name was difficult to remember, I wrote it on the last page of school diary. In the evening, I opened the page and told my mom to prepare the same. However, to my disappointment, my mom had also not heard of it and when she told me this I cried for hours saying that why doesn't she knows it.
(It was only after I joined ifood.tv, I came to know that knowing about all foods and their recipes is impossible as the food knowledge bank is too large).
The next morning I played a bit smart and noted Anisha's phone number from her diary and made my mother speak to hers in the evening. Both ladies talked for a long time and Anisha's mother invited me and my mom to her home for learning how khandvi is made.
In few hours, mom not only learnt how to make khandvi, but was also furnished with other useful info such as khandvi is a Gujarati snack dish which is made of gram flour and curd. It comes under the farsaan category which means snack in Gujarati. People relish the dish with hot and spicy dips and it can be refrigerated for two to three days.
Soon, khandvi was one of the most prepared foods in our house and I could flaunt around saying even to Anisha that my mom makes the best khandvi in the world.
Days passed…years passed….I graduated…started my career and the time came when I was about to get married. And in all these years, I just loved my mom made khandvi.
After my marriage when I reached at my in laws place and started unpacking my stuff, I found a small bag containing a bright colored paper. You would not believe what was there in that.
My friends, it was khandvi recipe, which my mom shared with me.
And, it also had a note with it saying "Dear daughter, in your new world, your one of the most liked foods, khandvi, will always make you feel being at home. Do make it when you miss us and share the khandvi with your new family members and seek their blessing too. God Bless you….your loving mom".
All the memories of childhood just flashed in front of my eyes and it was the most special gift by my mother which I still cherish – The Khandvi Recipe.
I guess, now you know why this dish is so close to my heart.
And yes, I do make khandvi for all in my family and even my daughter loves it and truly reminds me of my childhood.
Here is the recipe for khandvi for all of you out there…these delicate rolls are really magical….do try them
Khandvi
Course – Appetizer  
Cuisine – Gujarati, Indian                                                                                                                                
Preparation Time – 10 minutes
Cook Time – 40 minutes ( 10  minutes for rolling and garnishing )                                                                                                                 
Serving - 40 pieces
Ingredients:
For Rolls
Oil – 2 tbsp
Chickpea flour – 2 cup
Buttermilk – 4 cups (thin consistency)
Turmeric Powder – ¼ teaspoon
Green Chili – 4
Ginger – 1 large Piece
Salt – as per taste
For Tempering
Oil – 2 tsp
Mustard Seed – 1 tsp
For Garnishing
Coriander Leaves – chopped
Coconut – 4 tsp (grated)
DIRECTIONS
Getting Ready
1.    In a mixing bowl, put buttermilk and add gram flour.
2.    Stir the mixture well and add salt as per taste.
3.    Blend chopped green chilies and ginger in the mixer until smooth.
Making
4.    In a pan, heat 2 tbsps oil and once hot add green chili mixture and mustard to it.
5.    Immediately add the prepared flour mixture and stir on high flame.
6.    Add salt as per taste and keep stirring so that no lumps are formed.
7.    After 10 minutes, lower the flame and continue stirring.
8.    Keep stirring until a thick consistency is achieved.(It will easily take 15- 20 minutes)
9.    Take a drop of the mixture and put it on kitchen platform.
10.    Spread it well and leave for few seconds.
11.    If on cooling the batter rolls, turn off the flame otherwise keep stirring on low flame.
12.    Once the mixture is thick and starts rolling put the mixture on a smooth clean surface and quickly spread it evenly in all directions.
13.    Once done, leave it for a few seconds.
14.    Now with a knife, cut parallel and intersecting lines on it using a knife.
15.    Now, carefully roll each rectangular piece.
16.   Arrange the rolls on a neat tray.
Serving
17.    Heat oil in a pan and put mustard seeds in it.
18.    Once they start cracking, evenly put the tempering on the rolls.
19.    Now, top the rolls by sprinkling coconut and chopped coriander.
20.    Serve khandvi with your favorite dips.
Tip
Dab some oil on your fingers while rolling the batter. It will help making the rolls easily.
Resident Chef Contest Appetizer Entry 2nd Winner - Khandvi