You are here
Home
»
Cooking
»
How To Make
» Resident Chef Contest DESSERT Entry 2nd Winner - Puli Pithe (Coconut Dumplings in Sweetened Milk)
Resident Chef Contest DESSERT Entry 2nd Winner - Puli Pithe (Coconut Dumplings in Sweetened Milk)
27 Mar 2012
Bengali cuisine is famous all over the world, mostly for its array of delicate dessert preparations. Puli Pithe or coconut dumplings in sweetened milk – is one such delicacy, which every Bengali would die for. It is a time-consuming and elaborate preparation, which can be divided into 3 parts. First part is preparing the coconut filling, second part is shaping up the dumplings, and third part is boiling these dumplings into sweetened milk. No matter, how elaborate the process, the ultimate product is something too good and too exotic for your palate.
This particular dessert is authentically a religious food for Bengali people, to celebrate the occasion of Makar Sankranti (the last day of the first Winter month). From my childhood memories, I recollect those days when my Mom used to make these dumplings in large scale. At that time, I was a helper to my Mom and my duty was to prepare the dumplings. Somehow, my young creative mind used to inspire me to prepare variety of shapes for dumplings like stars, ducks, fish, conch shells, and all. Ultimately, when the dessert was served to the guests or even to the family members, it had some added uniqueness on top of others. Today, when I prepare this, my daughters come and help me with their creativity. History does repeat itself!!!
Date Palm Jaggery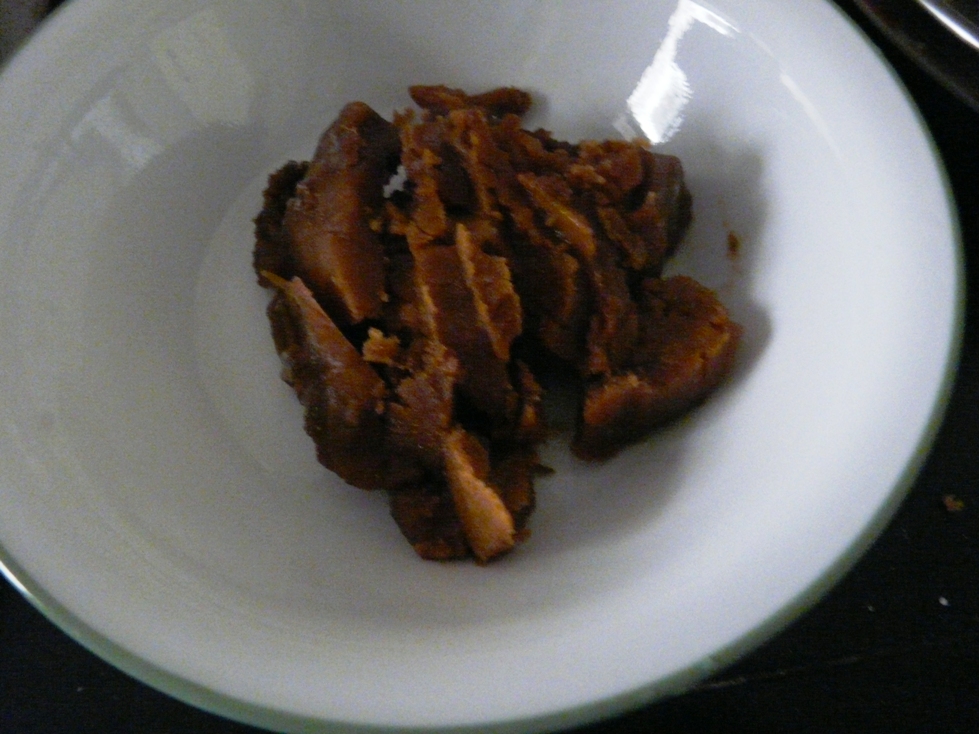 One most important ingredient for this preparation is Date Jaggery, which is made from the sap of Date Palm tree. This particular jaggery has a beautiful flavor and a subtle sweetness, which will stick on to your taste buds after you have tasted. It is produced in West Bengal or even Bangladesh only during the winter season. Although it is quite a rare item to find out, however most of the Bengali or Bangladeshi shop in your locality will keep this item during this time of the year. I remember to discover this item in one of the Jackson Heights Bangladeshi shop during my stay of USA back in 1995 and I was so excited that I felt like shouting – "Eureka, eureka"!!!
Ingredients
Milk – 1.5 lt
Sugar – 1 tablespoon
Date Jaggery – 250 gm
Coconut filling:
Coconut – 2 cups, finely shredded
Plain Jaggery – 100 gm
Date Jaggery – 100 gm
Dumplings:
Rice Flour – 200 gm
Sugar Powder – 1 teaspoon
Direction
GETTING READY
1)      In a skillet, add coconut and both types of jaggery.
2)      Place over medium heat and cook by continuous stirring for 10 minutes or until the mixture turns sticky.
3)      Remove from heat and allow the mixture to cool slightly.
MAKING
4)      Pour the milk in a big pot and place over stove to boil. Reduce the heat to medium and allow the milk to continue boiling until it is almost half of its original quantity. Stir the milk occasionally to prevent sticking at the bottom.
5)      While the milk is boiling, take a bowl to combine rice flour and sugar powder.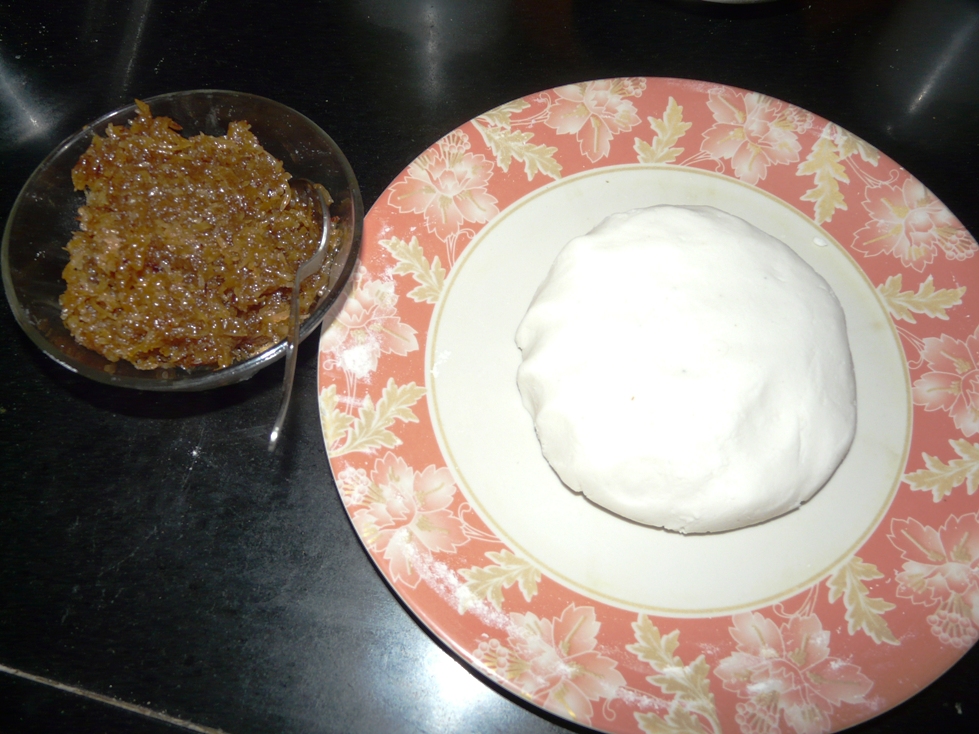 6)      Slowly add lukewarm water to prepare the dough by kneading. The dough should not be too wet or too dry, will have a normal tenderness. Cover the dough with a clean and moist cloth for 10-15 minutes.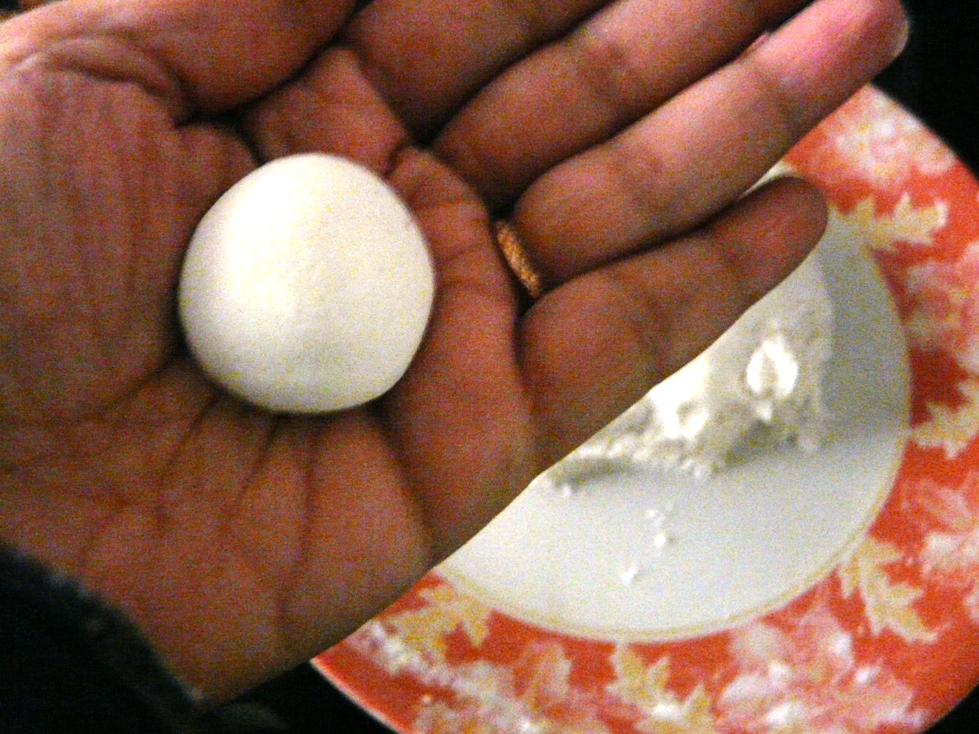 7)      Divide the dough in 20-22 small 1.5 inch diameter balls.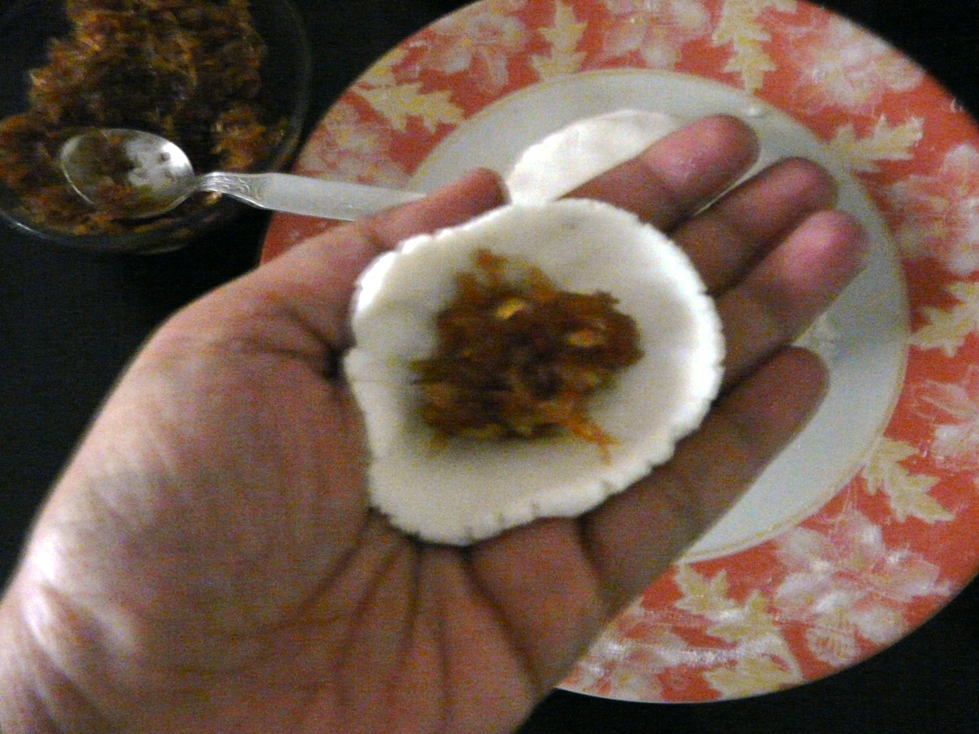 8)      Take each ball to flatten out in a circular shape. You can do this by lightly pressing your fingers on the ball along its edge in a constant circular motion.
9)      Put a ½ teaspoon of coconut filling at the middle of this flattened ball.
10)   Bring both the sides together to cover the filling.
11)   Close the open ends by pressing over the edges. Once the edges are closed, you can make wavy designs on top.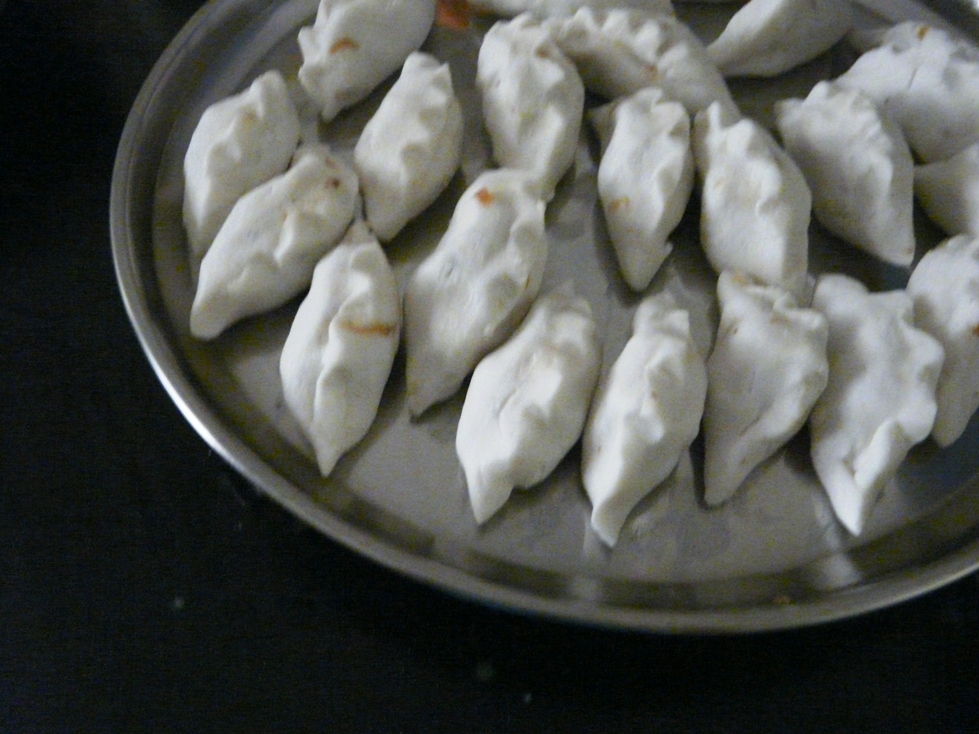 12)   Follow this process with all the balls to shape up the dumplings.
13)   Cover the dumplings with clean and moist cloth, until your milk is ready.
14)   When the milk reduces to almost half of its quantity, gently put the dumplings in the boiling milk.
15)   Cook the dumplings in boiling milk for 10 minutes or so. Once the dumplings are cooked they will start floating on the surface.
16)   Reduce the heat to low and add sugar and date jaggery. Gently keep on stirring the milk, until the sugar and jiggery are completely dissolved in milk.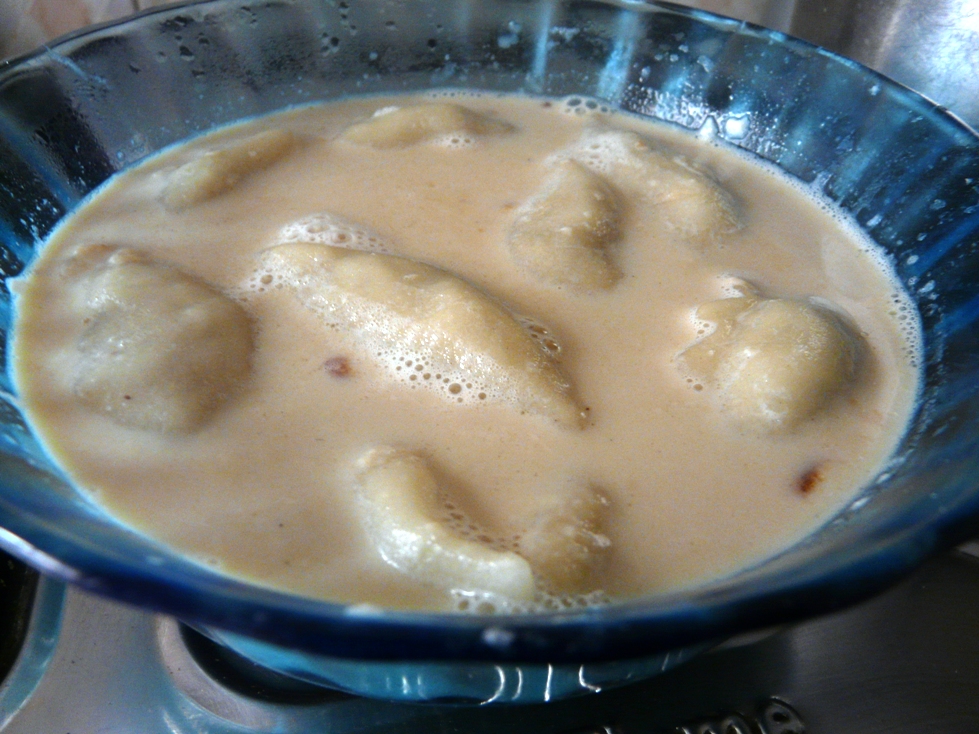 17)   Remove from heat and let it cool down uncovered at room temperature.
18)   Once it is back to room temperature, place it inside the refrigerator to chill and set for at least an hour.
SERVING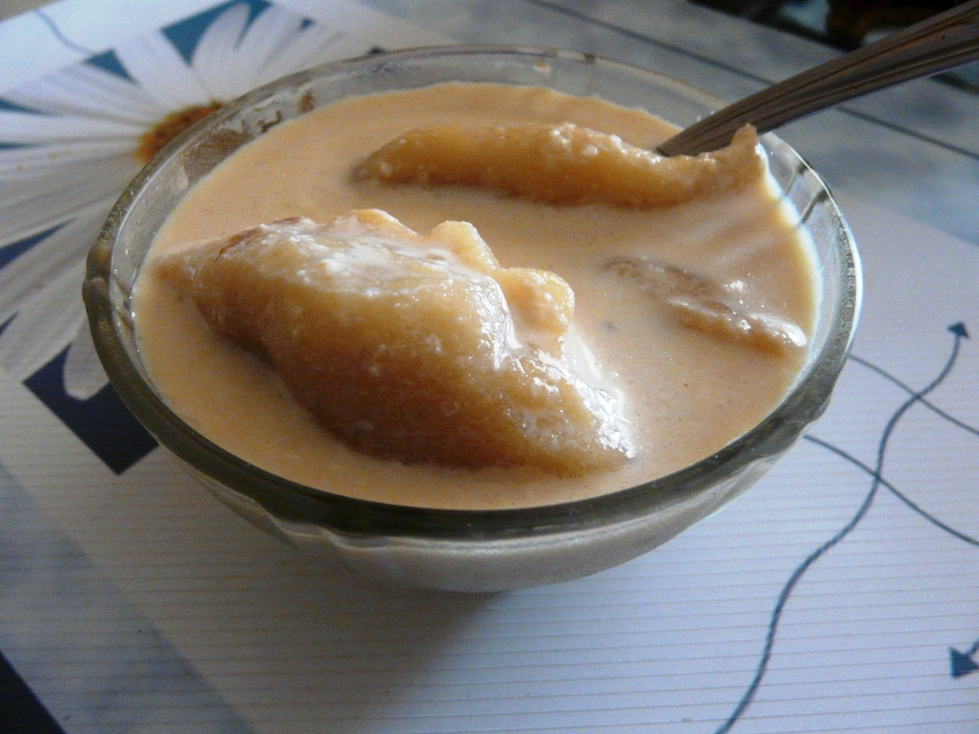 In a dessert bowl, serve the dumplings and pour the sweetened milk on top. You don't really require any garnishing for this, as it already looks so delicious and drooling.
Resident Chef Contest DESSERT Entry 2nd Winner - Puli Pithe (Coconut Dumplings In Sweetened Milk)