Tips To Make Homemade Taffy

28 Feb 2012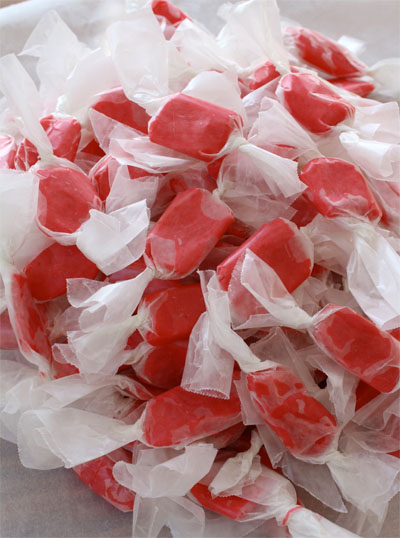 Kids love taffy and  nothing can be better if you can prepare these at home. Homemade taffy or the chewy and stretchable candy is easy to make.   You are sure to get the best ones with a little practice and patience, In case you have faced some difficulties in making them in the past or you are looking for some cool ideas and tips, this blog is surely going to help you.
Taffy making tips:
Weighed ingredients:
Do not miss the weighing of ingredients when you are preparing taffy at home. You might be using the right ingredients but if used in the wrong quantity, you will surely mess things up.
Fruit flavored drink mix:
You need to use fruit flavored drink mix but you have to be a little careful when using it. You need to check out the measurements on the package and it is recommended to use only those drinks which are made using two quarts of drink. If you are not able to get such a package, do not make a mistake of using more than 1 package – it will spoil the texture.
Stirring the ingredients:
You need to stir ingredients very well, especially when you are mixing cornstarch and sugar. If you do not mix well small lumps or air pockets will be formed and you will notice some dark spots which are actually bits of the drink mix in the taffy.
Use candy thermometer:
You need to measure the accuracy of temperature very well. The thermometer should read a temperature of 250 degrees. Once this temperature is reached, you can be assured that your candy shall cook well.
Using buttered hands:
Pulling the taffy might seem to be a tough task but it will be easy when you have buttered your hands well. It will make your pulling easier. If you find your hands drying out, you can use some more butter.
Once your taffy is ready do not forget to wrap them in colored wax paper and give an interesting twist at the end to give it a perfect look.
Image credits: skiptomylou
Tips To Make Homemade Taffy