Girl Scout Cookies Made at Home

14 Feb 2012
You no longer have to wait for Girl Scout season if you wish to enjoy these cookies now! All you have to do is just go through our ideas and tips on how to make them yourself. Girl Scout cookies may be a little time consuming, but they are definitely worth the effort! Here are some handy tips for you to prepare these at home: 
These are President Obama's favorite. Now, you can create your own version of this chocolate-covered mint sandwich cookie in your own kitchen!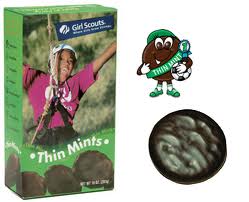 Tagalongs or Peanut Butter Patties
This recipe makes an equally tasty version of another Girl Scout favorite: Tagalongs. Try substituting the peanut butter for a chocolate hazelnut spread for an additional twist. Although this recipe is for bars, the layers of flavors match up perfectly. 
Do-Si-Dos or Peanut Butter Sandwich Cookies
This type of Girl Scout cookie can be made even better at home! Simply bake peanut butter cookies according to the recipe, create a creamy peanut buter filling, and spread between two cookies to create these sandwich cookies!
Everyone has their own version of a shortbread cookie recipe, but this one will probably be the closest to the Girl Scout version, with the currants being optional. 
Make this easier version of Samoas, which would taste better than what Executive Chef Michael Englund had dreamt up.
Cut back on sugar and, instead, go for brown sugar in this home recipe of classic sugar-free chocolate chip cookies.
This Girl Scout cookie was inspired by the Latin American Alfajor cookie and there is no reason why you cannot recreate the magic in your kitchen.
Recreate these refreshingly tangy cookies at home and, instead of the icing, you can add powdered sugar to counter the tangy taste.
Prepare these low-calorie, crispy cinnamon snack at home and enjoy the taste of Girl Scout cookies.
Image Courtesy: gsri, rollitup, mineforthemakng, sasakitime, tumblr, easy-sugar-free-recipes, tripplaar, knoxnews, picasaweb
Girl Scout Cookies Made At Home