Tips To Cook Fried Scallops

17 Jan 2012
Soft and mildly sweet, scallops are relished by even those who prefer to avoid fish. Learning how to cook fried scallops will help you enjoy this tasty shellfish in a more delectable way. Stuff the fried seafood in a burger bun or just relish it with a salad! Whichever way you eat, the fried scallops taste fabulous.
Directions For Pan Frying Scallops
With paper towels, dry the cleaned scallops thoroughly. The scallops should be dry before you pan fry them.
Place a skillet on medium heat, add butter or cooking oil, and heat to moderate levels.
Add the seafood to the skillet.
With a spatula, keep turning the scallops until they turn brown.
You can add the herbs and spices at this stage.
Cook to desired brownness, adding more cooking oil or butter if desired, to retain the moisture and prevent scallops from burning.
Relish as such or add it to your favorite recipe to zest up the dish.
Directions For Deep Frying Scallops
If you are using the frozen scallops, then thaw them.
Clean the seafood until they are dry.
Season flour with salt and pepper, or any other spices as desired.
Place a skillet on medium flame, add cooking oil, and allow to hot.
Dredge scallops in flour mixture, dip in beaten egg, and then, roll in breadcrumbs.
Add these , few at a time, to hot oil.
With a slotted spoon, keep turning the scallops until they turn golden brown.
Transfer to paper towels and drain excess oil.
Serve as desired!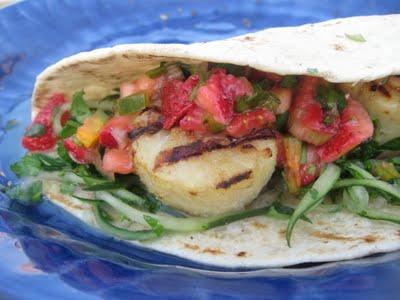 Tips For Cooking Fried Scallops
There are quite a few dishes where you can include the fried seafood. While they may not be a healthy choice, they are definitely tasty treats. Here are some such dishes where you can make use of the scallops, in the pan fried or deep fried forms.
Fried Rice: Keep the fried seafood aside. Prepare the fried rice as per the instructions mentioned in the recipe. Add the scallops to the prepared rice and toss gently.
As Filling: You can use the scallops, the deep-fried ones, as a filling for sandwiches, tortilla, as well as pita wraps. Just toss the fried seafood with the sauce or any other spices or dressings as desired. However, make sure that you use the seafood only after it cools down.
Now that you have an idea of how to cook fried scallops, you will be ready to eat a tasty, zesty meal!
Image Credit: floridagreek.com, flickr.com, burprecipes.blogspot.com
Tips To Cook Fried Scallops