Tips To Cook Fried Cabbage

16 Jan 2012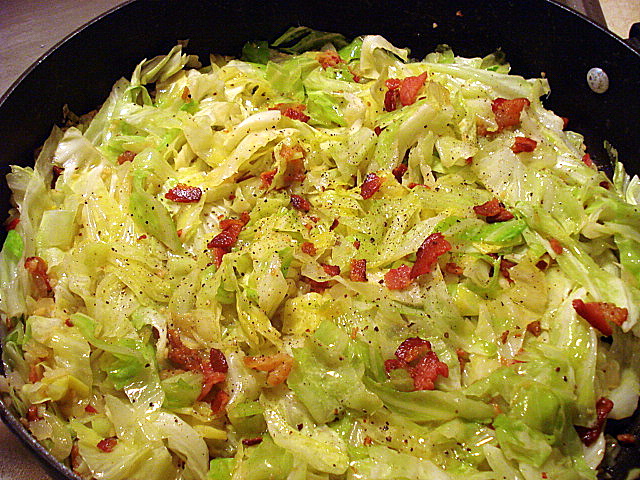 Kids, in most of the cases, prefer to keep their hands off cabbage. However if you know how to cook fried cabbage, then you may be able to lure your kids to this fiber-rich leafy veggie. Relish the stir-fried and deep-fried versions as such or use as them as one of the base ingredients for casseroles or muffins, or the Indian dish, kadi pakodi. So here are few handy tips to help you get started…
Directions For Stir Frying Cabbage
Clean the cabbage head well, shred, and keep aside.
Place a skillet on medium heat, add cooking oil, and allow to heat until the oil is moderately hot.
Add shredded cabbage.
With a spatula, stir fry the vegetable until soft.
Season as required and cook until cabbage turns crisp and tender.  
Serve as a side item with meat or use it as a base for casseroles and muffins.
Directions To Make Deep Fried Cabbage
Clean the cabbage head well; slice the cabbage into fine pieces.
Prepare a batter using flour and spices as desired.
Place a deep-frying pan on medium flame; add cooking oil and allow to turn hot.
Fold cabbage into batter.
Using a tablespoon, add the batter to the hot oil.
With a slotted spoon, keep tuning the fritters until they turn golden brown.
Transfer to paper towels and drain well.
Serve alongside a dip or keep it to be used for other dishes.
Tips For Cooking Fried Cabbage
As mentioned in the beginning, the fried variant of this veggie makes a tasty ingredient for quite a few dishes. Spring rolls, casseroles, muffins, sandwiches, and quite a few more! Here you go…
Kadi Pakodi: [Indian Savory Dumplings In Yogurt] You can use chickpea flour spiced with red chili powder, salt, a little asafetida, cilantro leaves, and onions slices. Add cabbage pieces and fry as fritters to be used in the dish.
Casserole: You can use stir-fried or deep fried variants, as per your taste. Cut the cabbage into thin, long slices and deep fry by dipping in all-purpose flour seasoned with few herbs and spices. This can be used as a topping for the casserole.
Muffins: Cabbage, the stir-fried ones, can be folded in muffin mixture, to bake some delicious and healthy goodie for your kids' lunch boxes or for breakfast.
If you have more tips on how to cook fried cabbage, then share it with us!
Image Credit: twirlandtaste.com, healthybratt.blogspot.com, herbcountryliving.com
Tips To Cook Fried Cabbage