Tips To Cook Fried Eggplant

9 Jan 2012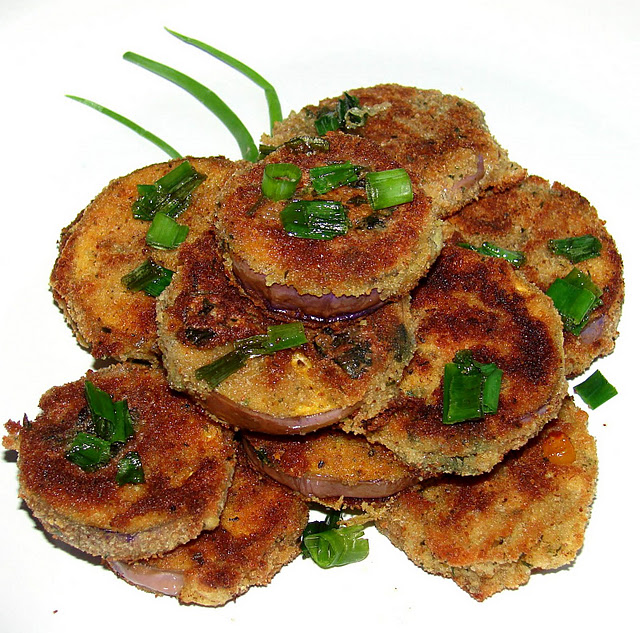 If you know how to cook fried eggplant, then you can easily use it in preparing other dishes. Along with being a side dish on its own, it has the versatility of being a core ingredient for countless dishes, including sandwiches. Here are a few tips on how to fry eggplant and how to use them in other dishes.
Directions For Frying Eggplant

Slice the eggplant as per the required shape.

Sprinkle salt liberally and keep aside the eggplants for some time so that the slices absorb the salt.
Place a pan on medium to heat flame and add cooking oil to it.
Prepare the batter as mentioned in the recipe.
Dip the salted slices in the batter and add to the hot oil, one by one.
Fry the slices, turning frequently, until either sides turn golden brown.
Using a slotted spoon, transfer fried slices to a paper towel.
Drain well before serving or using it in other recipes.
A Few Handy Tips 
Always salt the slices before you cook them to prevent the eggplant slices from absorbing more oil.
Always make sure that the oil is thoroughly hot well.
Avoid overcrowding to allow proper cooking.
Replace the oil after every three or four batches.
Eggplant, when fried to perfection, will be soft and flavorful, but less greasy.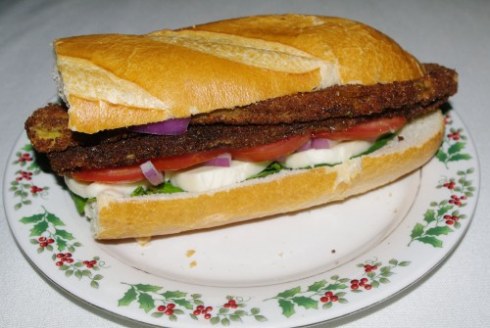 Tips For Cooking Fried Eggplant
As mentioned above, fried veggie can be used in various recipes. Here are few handy tips for using them in some of the dishes.
Casserole: Make sure that you cut the eggplants into thin round before dipping them in the breadcrumb mixture and deep-frying them. You can either top the fried slices with casserole mixture or mix it along with the mixture before baking.
Sandwich: If you want to get your kids eat eggplant, this is a great way. Cut eggplant to thin, long slices for frying. Season the batter for deep-frying with a little pepper and salt. Now, arrange the fried slices atop butter spread bread slices and top up as desired. Keep in the oven for few minutes for your sandwich to be ready.
In Gravy: One of the dishes from Indian cuisine makes use of fried eggplants in its gravy. A tangy and spicy dish, the fried slices are simmered in tamarind gravy and flavored with red chili powder.
Pasta Topping: Dice the eggplants for frying them. Cook the fried veggie in the spaghetti sauce until tender and then, use the mixture to top the pasta.
These are some of the tips to help you to know how to cook fried eggplant. You can try other ideas on your own and share them with me!
Image Credit: greek-kitchen0.blogspot.com, blondesauce.wordpress.com, kichencorner.blogspot.com
Tips To Cook Fried Eggplant