Tips To Prepare Low Fat Fried Chicken
23 Nov 2011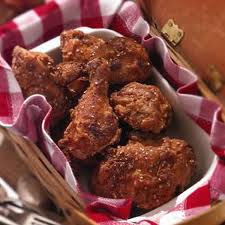 There is no denying that fried chicken is one of life's biggest guilty pleasures. After all, very few things are as satisfying and irresistible as juicy, succulent meat coated with crispy golden crust. However, the high fat and calorie content in it leaves much to be desired, certainly making it off-limits for the calorie-conscious, and weight-watchers. Fortunately, there are ways you can make chicken low in fat. With the right ingredients and simple substitutions, you can upgrade your recipe to fit something healthy. Trail the tips to prepare low fat fried chicken and customize the recipe to suit your taste buds and ticker, without upsetting your calorie-meter.
 Preparing Low Fat Fried Chicken
When preparing low fat fried chicken at home, it is best to reach out for the leanest piece of chicken on the shelf. Boneless and skinless chicken make for the healthiest meat choice here. If you are using frozen chicken, make sure to thaw them in the microwave before covering then with the crust. You can opt for chicken breast tenderloins for the purpose as that are very moist and takes less time to cook.
Although corn flakes are any day the favorite choice for coating, you can experiment with a variety of crumbs like crushed cereals, crushed crackers to coat your chicken breasts. Avoid using breadcrumbs for the purpose, as they are often high on fat and could unnecessarily weigh down your fried chicken. Crush the flakes and spice it up using your favorite spices. Add a little wheat flour to it to help the spices stick well to the breast pieces.
You do not need gobs of fat to make fried chicken. Being a little prudent with your method of cooking and baking the chicken instead of deep-frying it will yield crispy fried chicken sans the grease and fat. Coat a pan with nonfat cooking spray, and spray some to the breast pieces. You can opt for any cooking sprays that come with the flavors of olive oil or butter, or simply used olive oil to grease the pan and the breasts.
Skipping the fryer and turning on the oven is indeed a big step to cut down the fat. To give your baked "fried" chicken a crunchy coating, bake it in the oven at about 400 degrees. Halfway through, turn the chicken breasts and coat them again with cooking spray to help get all sides of the chicken extra crispy.
These tips will surely turn your chicken into crispy delights sans the unwanted fats.
Image Credits: ifood.tv
Tips To Prepare Low Fat Fried Chicken