Tips To Prepare Low Fat Risotto
22 Nov 2011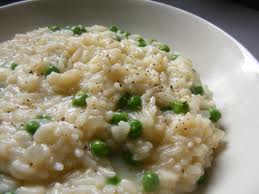 Filling, flavorsome, and a quintessential family favorite, the creamy and comforting risotto is an Italian rice dish that is quite starchy and packs in an enormous amount of fat too. Although the main ingredient used in this classic dish is sticky rice, which lends the dish much of its creamy taste and texture, most recipes include loads of cheese and butter that step-ups the fat content in risotto. If you wish to savor risotto, then swapping high fat ingredients with low fat alternatives would surely help. Just pick your cues from these tips to prepare low fat risotto, modify the recipe accordingly, and enjoy a comforting dinner that will satisfy your appetite in no time.
How To Prepare Low Fat Risotto
Making low fat risotto isn't much of a challenge as the dish is naturally healthy. Making some very low fat modification would generally suffice. To begin with, the type of rice you choose will make a considerable amount of difference to your dish. As you may know, risotto is prepared using special type of sticky rice like carnaroli, vialone nano or arborio that lends the dish its creamy consistency. Carnaroli rice packs in more calories than the other two varieties and isn't really the preferred choice of the weight-watchers. Arboria contains less calories and fats of the two and is the best choice here.
The second most important ingredient in risotto is the broth. While most people go for bouillon or store-bought broth, it's best recommended to prepare your own low-fat broth at home. In that way, you won't be just able to manipulate the ingredient that goes into it, but will successfully manage to slash down the fat and sodium content in it.
You choice of cooking fat will also make a considerable difference to your risotto. Opting for healthy fats such as olive oil, safflower oil, sunflower oil or canola oil instead of butter or other animal and hydrogenated fats and adding them sparingly will negate the fat content in your risotto.
Most people find it hard to think of their risotto without cheese. If you wish to add some cheese to your rice, opt for Parmesan or Romano cheese, that isn't just flavorful, but also considerably low in fat.
Follow these tips when preparing low fat risotto at home and you will be surprised to gorge on a relative light risotto.
Image Credits: tastymeals.wordpress.com
Tips To Prepare Low Fat Risotto