Tips To Prepare Low Fat Cream Sauce
19 Nov 2011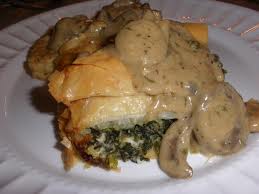 As with Alfredo or Hollandaise, all cream sauce come with generous helping of butter, cheese, and heavy cream that renders it extremely unhealthy and high on fats. If you think that there can be nothing like a low-fat cream sauce, know that making slight substitutions in your basic ingredients, swapping high fat ingredients with low-fat alternatives, or even reducing the measure of fattening ingredients will leave you with a low-fat cream sauce that won't ruin  a dieter's best plans for the day. Trail the tips on how to prepare low fat sauce for more cues.
How To Prepare Low Fat Cream Sauce
Evaporated Fat-Free Milk
The best way to cut down fat from any sauce is to make healthy substitutions and reducing content. Using less butter than the standard recipes, and substituting evaporated fat-free milk mixed with flour for the heavy cream could work. The flour as a thickener and help binds the ingredients. Combine flour with evaporated milk , add melted butter,  low-fat milk, Dijon mustard, and salt. Cook the mixture on medium heat until it thickens slightly and add Parmesan cheese. Result, an intensely flavorful, low fat cream sauce, and you won't miss the heavy cream too.
Low-fat Milk
You can also use low-fat milk instead of heavy cream and adds fat-free chicken broth to it for flavor. However, make sure you opt for homemade chicken broth. Cook fat-free chicken broth and low-fat milk. Stir in Parmesan cheese and enjoy a low fat cream sauce.
Cornstarch and Skim Milk
Another great way to make low fat cream sauce is to completely skip the butter and rather use cornstarch as a binder. Whisk cornstarch  with skim milk. Heat it. Season with a dash of salt and white pepper and Parmesan cheese. If you want sauce of thicker consistency, increase the quantity of cornstarch. To ensure that you don't miss the butter flavor in your cream sauce, use imitation butter flavor sprinkles for additional flavor.
Part-Skim Ricotta
Ricotta cheese is healthier and low-fat dairy product made from whey. You can use this soft cheese in place of heavy cream in cream sauce recipe containing butter and Parmesan cheese. Blend ricotta cheese with a dash of skim milk until smooth. Add to the recipe, and cook on low heat until warm. Add salt, pepper and nutmeg and you are done.
With these tips, you can prepare low fat cream sauce at home.
Image Credits:over300cookbooks.blogspot.com
Tips To Prepare Low Fat Cream Sauce