Tips To Prepare Low Fat Hollandaise
19 Nov 2011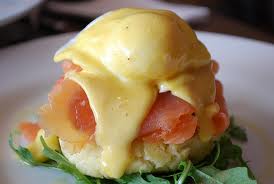 Hollandaise makes the perfect accompaniment for dishes like eggs Benedict, Mac and cheese, or Veal Oscar and is a sauce to die for, literally. However, this extremely rich sauce packs in quite an enormous amount of fat whack with nearly half of the ingredients used being rich in saturated fats. Ingredients like egg yolks and clarified contain saturated fats that can spell disaster for your health. To make you hollandaise healthy and low in fat, you may eliminate butter and eggs altogether and substitute then with yogurt and Egg Beaters respectively. Trail the tips on how to prepare low fat hollandaise, and get started.
How To Prepare Low Fat Hollandaise
When it comes to making creamy yet low fat hollandaise, creating your own version by substituting high fat dairy and cream wit skim milk or soymilk would be a great idea. You can also add little dry milk powder or low fat yoghurt to add extra body to your sauce. However, by simply substituting the whole milk or cream in such sauces with a low-fat milk, soymilk, or rice milk, the total calories and fat can be greatly decreased.
Low calorie margarine or light butter can be substituted for full fat butter. In the case of hollandaise sauce, reducing the amount of butter you use as well as replacing some of the egg yolks with low-fat milk and a bit of cornstarch can provide a similar creamy, rich texture and taste without the unnecessary fat and calories.
In addition, using low-fat cheeses such as part-skim mozzarella, farmer's cheese, or goat cheese, or low-fat forms of cheeses such as cheddar or Swiss instead of high-fat cheeses like whole-milk mozzarella, brie, or ricotta, can greatly reduce the fat content of creamy sauces.
These tips will help you enjoy your hollandaise sans any guilt.
Image Credits: ifood.tv
Tips To Prepare Low Fat Hollandaise